Magic: The Gathering Arena details mobile early access and future updates
At the tap of your fingers.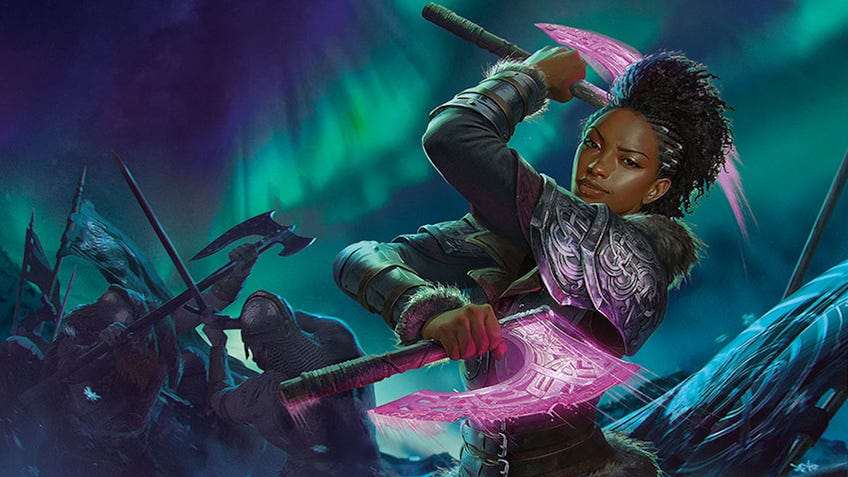 Magic: The Gathering Arena hits Android devices on January 28th, and this month's State of the Game blog post details what mobile players can expect at launch.
MTG Arena's mobile version was first announced on January 7th, detailing the recommended system specifications and supported devices during the early access period. Now, publisher Wizards of the Coast has provided in-game details about how the game will play on smaller-screen devices.
Game board features, such as the orientation of hands, decks and where cards are played translates with little change from the PC app. The more rectangular screens of most phones and tablets necessitated moving elements like player portraits and the confirmation button slightly. Touch controls are reported to work with intuitive tap and drag gestures; libraries, graveyards and other zones can be touched to bring up more detailed information during a match.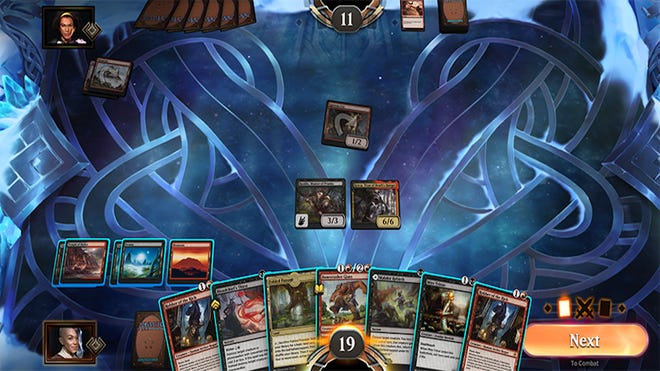 Following MTG Arena's initiative to automate the more tedious steps of a turn, player hands will "tuck and untuck" depending on whether the game perceives a player's ability to respond to their opponent's moves. The mana auto-tap feature in the core version of the game works in much the same way.
Some features will not make the mobile release launch window. Players on tablets and phones won't be able to add cards to the sideboard while drafting. They will still have this ability while rearranging their decks afterwards, but the quality-of-life feature on PC cuts down the time between drafting and queuing for a match.
Additionally, many social features will be missing from the early access launch. According to Wizards, Direct Challenge will be the only way players can challenge specific opponents. Friends lists, messaging and other social options are reported to be coming "later this year", along with code redemption services.
One of the chief concerns from the community regarding MTG Arena on mobile is its ability to handle considerably complex matches. Magic: The Gathering's constantly evolving rules and card roster can and does create near-inscrutable scenarios. Just last year, Wizards patched Arena to limit the number of tokens a single match would tolerate after server strain began affecting neighbouring matches.
This may still be a concern on Arena's mobile client. "We do not intend to change how we approach Magic design to specifically accommodate mobile play," Wizards said. "Instead, our goal is to optimise and make improvements to the gameplay experience across all of our platforms so that playing on your phone is just another "and" to the Magic experience. We're most of the way there, and you'll see improvements in the months ahead as we expanded our supported devices."
The blog post also updated the community on the developer's 2021 roadmap for MTG Arena, sharing which projects are near completion, in development or still in the conception stage. The company admits much of its resources have been focused on preparing Arena's mobile release alongside the upcoming Kaldheim set due to launch later this month. Compared to the last roadmap released in September 2020, several features have been delayed or otherwise stuck in concept.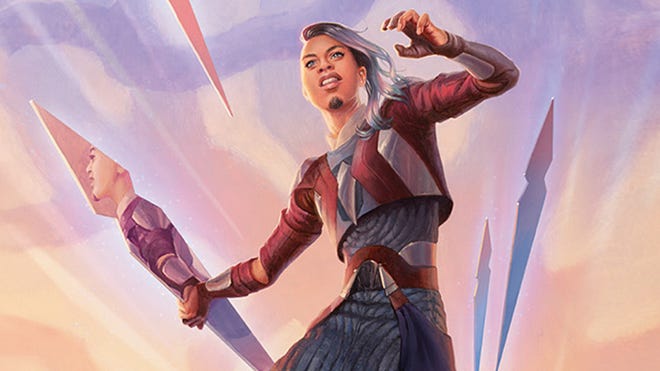 The Play Blade rework remains "in concept", where it has sat for about a year. Community members have been frustrated by the state of this game feature, which provides a navigable list of Arena's many game modes. Posts and complaints characterise the Play Blade as unintuitive and difficult to parse for newcomers, who are regularly surprised to find modes such as Unranked Historic buried in a scrolling list that only appears once a legal deck has been selected.
Deck sharing, Historic Brawl and further tournament support are notably missing from the roadmap, leaving many speculating on where Wizards will invest its resources beyond MTG Arena's mobile launch next week.