A PUBG Battlegrounds board game will be released later this year, after being quietly crowdfunded by Korean publisher
English-language version yet to be announced.
A board game adaptation of PUBG: Battlegrounds, the battle royal video game series, is coming later this year.
Originally released as Player Unknown's Battlegrounds, PUBG: Battlegrounds is a video game series published by Krafton, that sees players competing to be the last one standing in a deathmatch.
Inspired by the classic 2000 Japanese movie Battle Royal, PUBG has players fighting one another within a location filled with various buildings, equipment and weapons for them to take advantage of. As time progresses, players will be forced to move closer to one another in order to remain in a safe zone that gradually shrinks in size over the course of the match. Whichever player is the last one left fighting is named the winner.
Since its release, PUBG has become hugely influential in the video game industry, leading to the creation of the battle royal genre – including the incredibly popular Fortnite and the character shooter/battle royal hybrid game Apex Legends.
A trailer for PUBG: Battlegrounds – The Board Game.
A crowdfunding campaign for an official PUBG board game was launched on a Korean platform called Wadiz in May this year. The total raised for the upcoming board game was 880,611,50 South Korean Won, which only amounts to about £592.
PUBG: Battlegrounds - The Board Game is a board game for up to six players that features a competitive mode, team modes and a solo game mode. (Thanks BoardGameGeek.) In the game, players must utilise various weaponry and equipment in order to survive either against their fellow players, against the enemy team or against a collection of artificially intelligent opponents.
Every round, players spend stamina in order to move around the board, loot spaces and attack their opponents. Similarly to the video game it's based on, the PUBG board game requires players to think carefully about their strategy for survival, as well as their offense against the enemy. Whenever players attack, they'll need to choose a weapon that supports the range they're firing from and roll a set of dice, with each face showing where players manage to hit their target. Players are able to attach upgrades to their equipped weapons in order to enhance their abilities. Other items in the video game board game can be used on the player or can be thrown at others.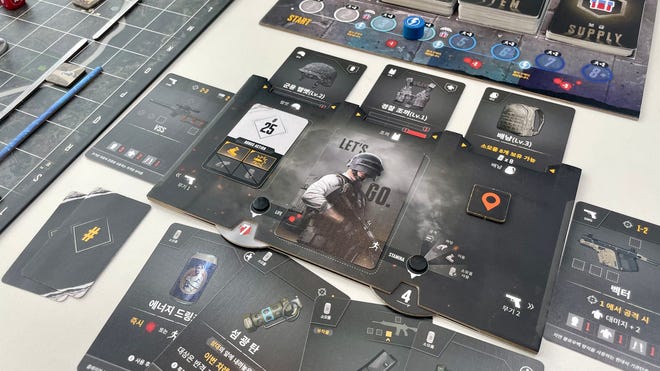 As the game progresses, a blue zone spread across the board will gradually decrease in size, with players needing to remain within the zone in order to continue surviving. Players will be able to use vehicles to cover larger distances and travel through certain terrain types. Whichever player or team is left standing by the end of the game is the winner.
Battlegrounds: The Board Game is set to be published by Gemblo, Inc in November, with an English language version of the game yet to be announced. The board game will apparently be featured at this year's Essen Spiel convention, which will take place in Essen, Germany, from 5th to the 8th October.