WW2 strategy series Quartermaster General is getting a new trilogy of two-player board games
This year's East Front will focus on the conflict between the Soviet Union and Germany, followed by games set on the Mediterranean and Western fronts.
World War 2 board game Quartermaster General is spinning out with a new trilogy of two-player games focused on different fronts during the conflict.
The original Quartermaster General was released in 2014 by designer Ian Brody, whose fast-paced card-driven gameplay kept the wargame's battles to a tight two hours. Players use a unique deck of cards representing their nation to build and battle armies, while needing to maintain a supply line back to their home country or another supply point in order to gain victory points.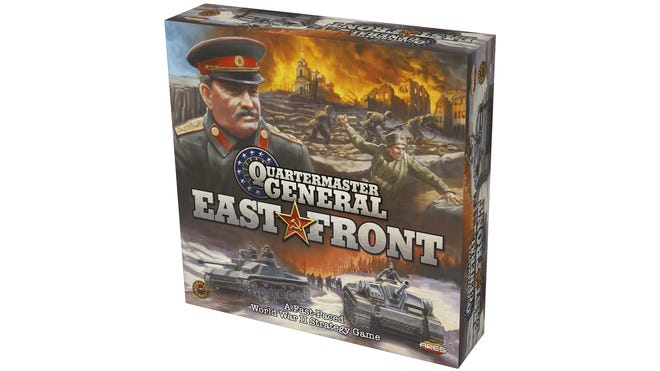 While the original Quartermaster General, its 2020 second edition, expansions and previous spin-offs set during the Cold War, Peloponnesian War and First World War could support up to six players, the series' upcoming board game Quartermaster General: East Front will max out at just two players.
In keeping with the tighter player count, East Front is described by publisher Ares Games as focusing on a more "operational-level" battlefield, contrasted to the global strategy of past Quartermaster General instalments. As with past entries in the series, the game is estimated to take under two hours to play, spanning in-game from the summer of 1941 to the spring of 1945 across 16 rounds.
East Front will depict the Second World War conflict between the Soviet Union and Germany, opening with the Axis invasion in June 1941 through to the capture of Berlin and Germany's surrender.
The new game - the first original addition to the series from Ares - is billed as the first in a planned trilogy of Quartermaster General games set during WW2. It will be followed by standalone titles focused on the Mediterranean and Western fronts.
Quartermaster General: East Front is planned for release later in 2023. The next two games are yet to have titles and release dates confirmed.