Let's Summon Demons and other parody books by Steven Rhodes are now board games
We're not kidding.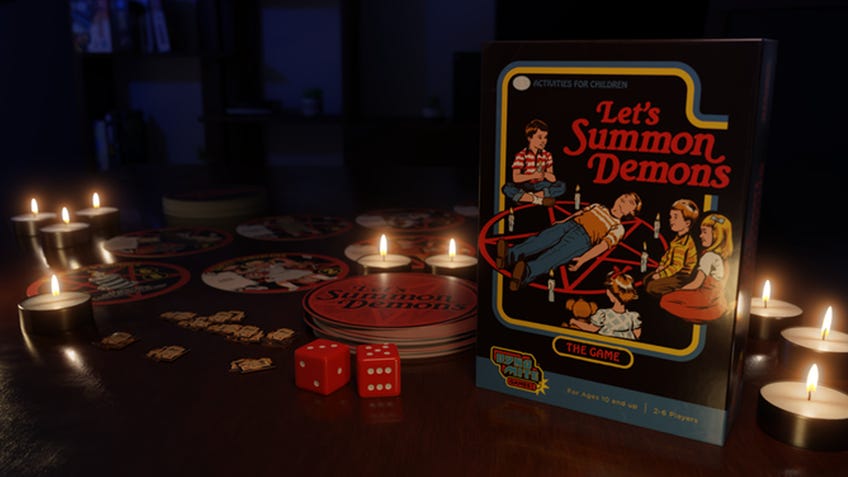 Reimagined children's activity books created by graphic designer Steven Rhodes - including Let's Summon Demons - are being turned into a series of board games.
Inspired by the otherwise innocent activity books made popular during the 1970s and '80s, the trilogy of board games feature artwork created by Rhodes and will be based on three of the macabre books already published as part of the Creepy Collection.
One of the upcoming board games is called Let's Summon Demons, and follows the story of a group of children who engage in some demonic rituals as a pastime. Let's Summon Demons sees two to five players attempting to summon all three of their starting demons by sacrificing souls from their available pool of tokens. Each round has players spending souls to acquire tokens to help them gather enough soul cards in order to summon their assigned set of demons.
On every player's turn, a die is rolled and any cards that match the number rolled provide their player with the attached benefits. First player to successfully summon all three of their demons wins.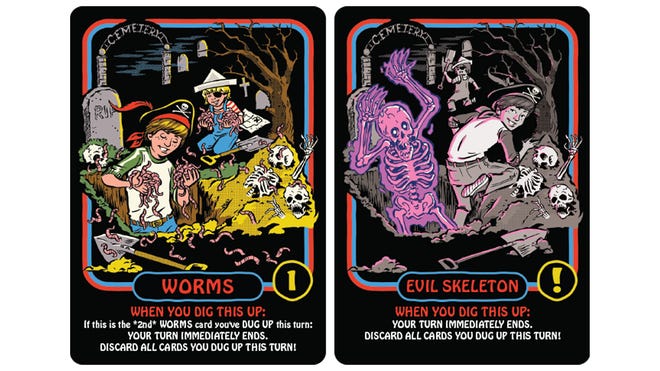 Another title featured in the collection of horror games adapted from Rhodes' books is Let's Dig Up Treasure, a push-your-luck board game about finding the most buried riches. Once the game's deck has been separated into three dig stacks, then players take turns to select a card from one of the three stacks. Some cards contain treasures that are worth points or provide their founder with special abilities to use to gain the upper hand.
Players can continue choosing cards for as long as they want. However, if they dig up two worms cards or just one skeleton card their turn immediately ends and they lose everything they've gained. Shouting "Stop!" causes the current player's turn to end and allows them to keep everything they've acquired. Once any dig stack has been emptied, the end ends and the players count the point totals on all their cards - with the player holding the most points named the winner.
The last game included in the series is Don't Talk to Strangers, which has two to six players sneaking their way from school to home without being caught by a mysterious gang of intergalactic invaders.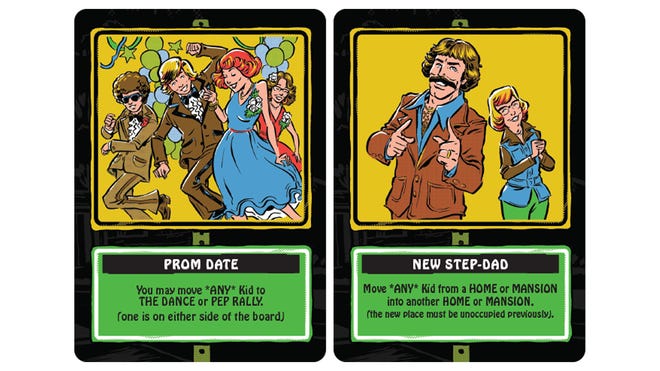 At the start of the game, players place one of their tokens on the school space and draw three cards. Players then move their tokens around the board by playing various cards from their hand, whilst avoiding leaving them on a stranger space. Should a player draw a stranger card, they can then abduct any tokens left on a stranger space - with that space becoming impassable for the rest of the game. Whichever player gets their tokens on the highest scoring home spaces by the end of the game wins.
All three games are set to be published by Dynomite Games, a studio owned by Cryptozoic Entertainment - the company responsible for party games Spyfall and Epic Spell Wars of the Battle Wizards: Duel at Mt. Skullzfyre.
The Kickstarter campaign for Let's Summon Demons, Let's Dig for Treasure and Don't Talk to Strangers is live until December 24th, with a pledge of $20 (£15) getting backers a copy of one of the three games set to be released in June 2021. Alternatively, backers can pledge $50 (£38) to get the entire trilogy of titles.