Zombicide makers' co-op board game XenoShyft released as free print-and-play to download at home
Don't Burke at the price.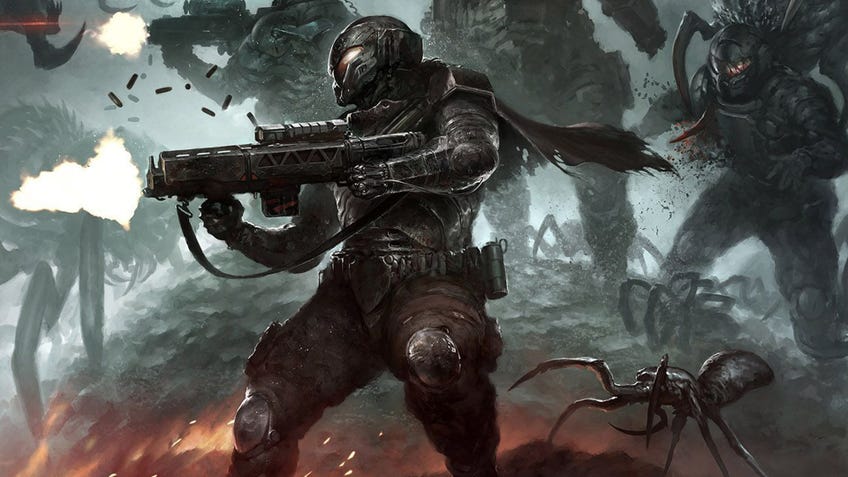 Zombicide publisher CMON has released out-of-print sci-fi co-op board game XenoShyft as a print-and-play game that you can download and play at home for free.
The XenoShyft series debuted in 2015 with XenoShift: Onslaught, a co-operative board game that saw players building up their individual decks of cards to defend their base and fend off attacking alien creatures known as the Hive over the course of nine rounds.
The Aliens-ish deckbuilding board game was followed by the Kickstarted XenoShyft: Dreadmire in 2017. Both a standalone sequel to Onslaught and an expansion for the original game, Dreadmire introduced new Brood monsters and weather conditions, as well as various new items, enemies and NorTec Corporation troops for the players to add to their deck. (If you were in any doubt as to the debt owed to the Alien movies by XenoShyft, know that there are characters called Vasquez and Bishop, as well as a flame-spewing mech suit named Prometheus.)
XenoShyft hasn't been easily available on the tabletop for some time as the result of going out of print, although the gameplay was adapted into a digital board game for PC and mobile devices, including five expansions and multiplayer to allow fans to play the board game online with friends.
Acknowledging the difficulty of finding a physical copy of the board game and the ongoing global self-isolation in the wake of the COVID-19 pandemic, CMON has now published a complete version of XenoShyft as a print-and-play board game that can be made and played at home.
The free print-and-play version of XenoShyft is based on Dreadmire's rules, including the manual from the later release. The board game's rules have been adapted to make it easier for players to download and play at home, removing weather cards and changing the way that items and troops are acquired. As with Onslaught and Dreadmire, XenoShyft can be played as a solo board game or with up to four people in co-op.
Even so, the XenoShyft print-and-play PDF runs to a whopping 56 pages in total - 32 of which are the game components - and features a lot of full-colour artwork, so you'll need plenty of spare ink and paper if you're looking to put it together yourself.