Wheels is Dicebreaker's new Head of Video!
Have a bang on that.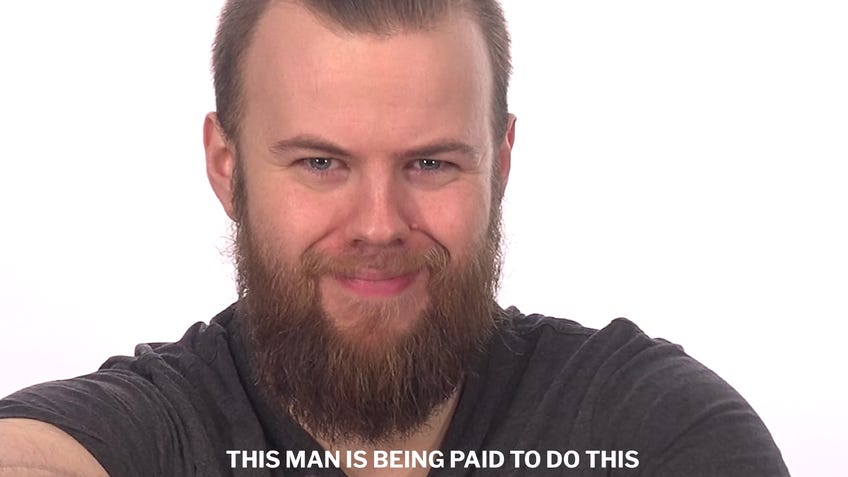 Happy Friday! I'm delighted to end the week with some very exciting news: Michael Whelan is Dicebreaker's new Head of Video. "Michael Whelan, who's that?" you might ask. Oh, look - it's Wheels!
Wheels helped first launch Dicebreaker's YouTube channel alongside Johnny back in the heady days of 2019 - here's another excuse to link that delightfully silly Penguin Peril video - and has since been a vital part of its growth and success both in front of and behind the camera.
Whether it's introducing newcomers to countless new board game recommendations; ably taking on the role of DM for our adventures through the worlds of Root, Warhammer and more; ruffling feathers as kenku wizard Fizz in our D&D series Dungeonbreaker; or simply brushing up some astounding miniatures every other week, Wheels has been at the very heart of Dicebreaker's video output since it all began. He's also popped up on the website, writing up a brilliant preview of Alice is Missing and waxing lyrical about the latest Sherlock Holmes: Consulting Detective instalment in our Baker Street Irregulars review, and helped bring Dicebreaker's trademark chaotic energy to events including PAX Unplugged, Gen Con and MCM Comic Con with the rest of the team.
Anyone who has ever met Wheels or worked with him will know that he's the perfect person to lead Dicebreaker's video output to new heights. As well as being a highly experienced and hard-working video producer, editor and host, he's incredibly passionate about tabletop gaming (as well as a variety of other subjects, from tinned breakfasts to the combat ability of aquatic life), endlessly creative and constantly strives to make the tabletop industry a better and more welcoming place for everyone. He's also just a pure delight to work with, being both supportive and professional and able to make the entire team crack up with any number of ridiculous in-jokes now ingrained into Dicebreaker lore. (Not to mention the gags on camera - including the incredible Happy Salmon demonstration below.)
Of course, Wheels won't just be helming Dicebreaker's video output alone. He'll be joined by our exceptionally talented and all-around-wonderful video producer Alex Lolies, who has similarly played a huge role in the channel's success to date, as well as our incoming new Junior Video Producer. (For which applications are open now - no video editing or production experience necessary!) Alex Meehan and I will continue to show our heads in the world of moving images, too.
Wheels, Lolies and the rest of the team have already achieved so many amazing things on Dicebreaker - despite an often challenging year where being together in the same room to play board games has been impossible. 2021 and beyond looks set to be an even more exciting time for the team across the board (pun intended). I am ridiculously excited to see what the future holds - and I hope you are, too. Please join me in congratulating Wheels!