Digital tabletop gaming console SquareOne allows players to use actual cards and tokens
Set to support games like Cthulhu Wars and The Crew.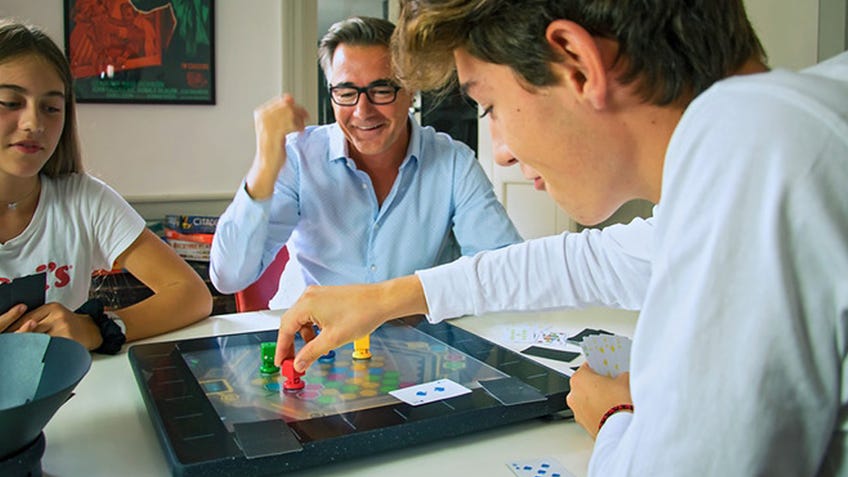 Place cards and move pieces on an interactive digital board with SquareOne, a 'gaming console' that combines aspects of the tabletop with immersive effects.
SquareOne is a device that enables players to physically place various board game components - such as cards, player tokens and resource pieces - onto it and have their turn be registered within the game they're currently playing. The gaming console is shaped like a square table, with a screen on the surface that reacts to pieces being placed. Depending upon which game players have chosen to play, they place a border around the screen that they can use to scan cards.
Scanning cards and moving pieces can result in the screen of the console displaying a certain effect to reflect the move taken by the player - for example, playing a card might cause a player's character to appear on screen in a graphic showing them attacking a rival character - or cause particular immersive sounds to come from the console.
The Dice Edition of SquareOne also comes with a unique set of dice that are connected to the console, meaning that whenever a player rolls one of the dice their resulting roll amount automatically registers on the screen.
Players can decide to pause their game and resume it at any time, with the console saving the current position of all pieces and any information entered. The SquareOne features playable tutorials, as well as a remote play mode that allows players in different locations to connect and play with each other on their respective consoles.
Included with the Standard Edition of SquareOne are ten games that appear to be a mixture of classic tabletop titles, including Snakes & Ladders and checkers, alongside some more unconventional offers such as air hockey and dodgeball. The standard edition also comes with an original title created by Wizama - the company behind the SquareOne console - called Chromacy that sees up to four players attempting to control a given number of tiles.
There are also three 'famous licences' included in the starter games pack for the console, which are yet to be revealed.
Due to release on the SquareOne console in the future are titles including horror board game Cthulhu Wars, co-designed by Call of Cthulhu co-creator Sandy Petersen, that has two to four players competing as rival gods from the Cthulhu mythos. Another game set to be supported by the console is co-op game The Crew - which took home this year's Kennerspiel des Jahres award - which has players working together as astronauts who cannot communicate through speech.
Other games set to be released on the SquareOne include Not Alone, the Urban Rivals trading card game and an original game created for the console called Crystal Bay. All of these games will need to be purchased separately or as part of a unique edition of the console.
The Kickstarter campaign for SquareOne is live until December 15th, with a pledge of €499 (£447/$590) getting backers a copy of the Standard Edition. For additional games and the dice tracking system backers will need to pledge €529 (£474/$625), with both editions arriving in December 2021.