Dimension 20's newest season celebrates Pride Month with Dungeons and Drag Queens
Let's slay.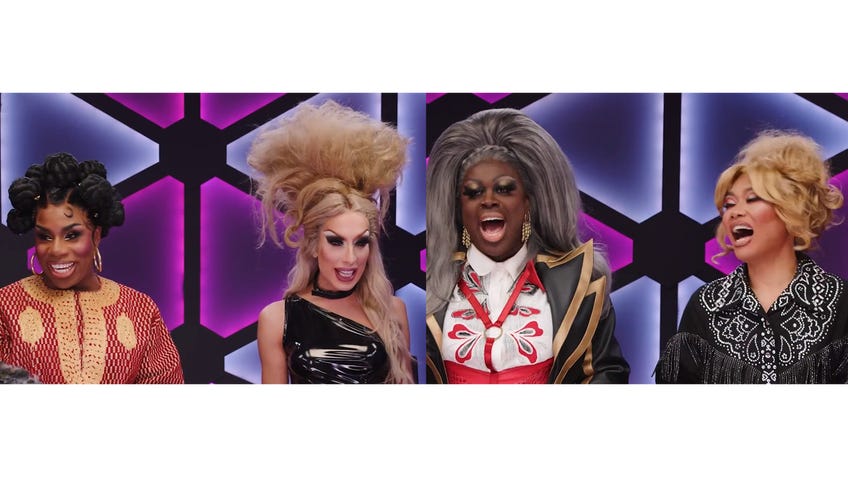 The latest season of Dimension 20, the tabletop roleplaying anthology show, will feature a party of Drag Queens as its players.
Called Dungeons and Drag Queens – a name shared by a live show in Seattle, whose creators have given Dimension 20 their blessing to use it – the upcoming season will see a cast of Drag Queens playing the tabletop RPG Dungeons & Dragons as the Questing Queens.
Revealed via a teaser trailer, Dungeons and Drag Queens will see regular Dimension 20 dungeon master Brennan Lee Mulligan taking the role of DM for the Queens, with the season taking place in its own unique setting and appearing the focus on the characters' quest to gain the favour of the goddess of death, in exchange for a boon.
👠DIMENSION 20: DUNGEONS AND DRAG QUEENS TRAILER💄

Premieres June 28th on @dropout

Featuring GM @BrennanLM, and your Questing Queens:
🏹@monetxchange as Troyánn
🪓@Alaska5000 as Princess
🔮@thatonequeen as Gertrude
🦋@jujuboston as Twyla

FAQ here: https://t.co/Kp0slT7aJy pic.twitter.com/frzsKRLNFp

— Dimension 20 🎲 (@dimension20show) June 15, 2023
The cast of Dungeons and Drag Queens includes Monét X Change (he/him/she/her) as Troyánn (she/her), a merfolk assassin who has been tasked with carrying out a number of hits, Alaska Thunderfuck (she/her) as Princess (she/her), an eight-foot-tall orc barbarian, Bob the Dragqueen (he/she) as Gertrude (she/her), a powerful and introverted sorceress, and lastly Jujubee (she/her) as Twyla (she/her), a fae soldier and ranger.
Illustrations for the characters have been included in a Twitter thread about the fantasy TRPG season, with the artwork being done by Savana @danyelss, a character designer and drag queen.
The first episode of Dicebreaker's own actual play series, Storybreakers.
Dimension 20 is an anthology series of actual play show seasons – wherein people are filmed playing a tabletop RPG, such as D&D – some of which are full-on campaigns taking place over many episodes, whilst others are shorter 'side quests'. Each season features its own cast of players and characters, with every season having its own theme – such as fantasy high school, pirates and horror – with viewers and listeners able to experience each season on its own, as well as part of the entire show.
Dungeons and Drag Queens will be released over four episodes, with the premiere launching on YouTube on June 28th and the remaining episodes releasing via Dropout.tv - a paid subscription service featuring comedy shows like Dimension 20.