Dungeonbreaker merchandise is here! Plus, a sale!
Grab Dicebreaker merch for 30% off during Black Friday.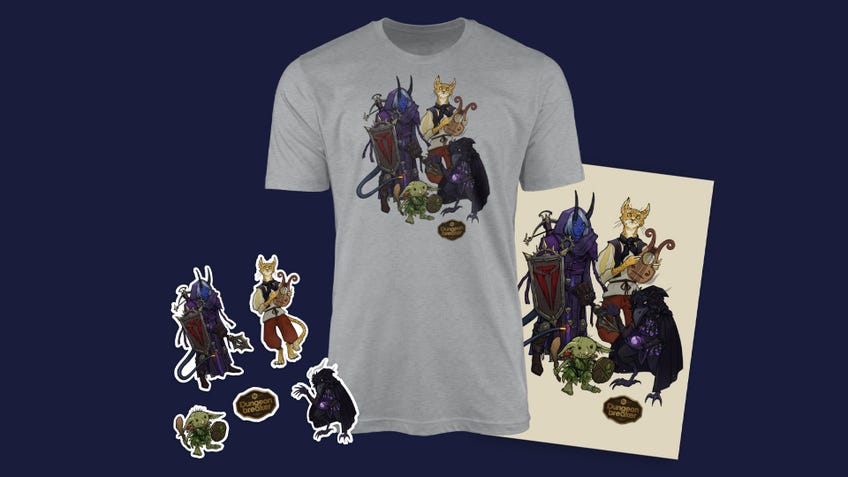 Prepare to be as happy as a goblin in a swamp or a tabaxi… well, anywhere warm. New merchandise for our Dungeons & Dragons series Dungeonbreaker has arrived!
If you've been enjoying our party's adventures from Eberron through literal Hell and recently to the Sword Coast and Waterdeep, we've got a trio of terrific goodies for you over on the Dicebreaker merch store. Or maybe you're new here (welcome!) and are yet to watch an episode, but just love illustrator Gina Nelson's artwork for the characters - we wouldn't be surprised.
First up is something a lot of you have asked for since we started our chaotic journey across the Forgotten Realms - a T-shirt! Featuring Mist, Fizz, Tim the Goblin and Morbos, this tee will let you get as close to becoming a member of the party without donning cat ears/horns/feathers/a burlap sack yourself.
Next is something brand new: stickers! Pick up a pack to get individual stickers of all four characters and the Dungeonbreaker logo you can put on your laptop/phone/book/face as you desire.
Last but not least is an A3 poster with the entire crew on, which you can affix to your wall and tell your friends is the latest hot pop band they've never heard of. Hm, Johnny and the Dungeonbreakers, we like the sound of that…
You can find the Dungeonbreaker T-shirt, sticker pack and poster over on the store now, where you'll also find all our previous merch, from shirts and hoodies to water bottles, koozies and mugs.
Enticed? We've got good news for you: as part of this year's Black Friday sales, you can enter BFRIDAY30 on the Dicebreaker Shopify store to knock 30% off selected lines. The code will be live from tomorrow, Friday November 27th - just in time for a next end-of-the-week treat.