Indie RPG seller Itch.io is waiving its cut of game sales for Black Friday
Save scratch when you buy from Itch.io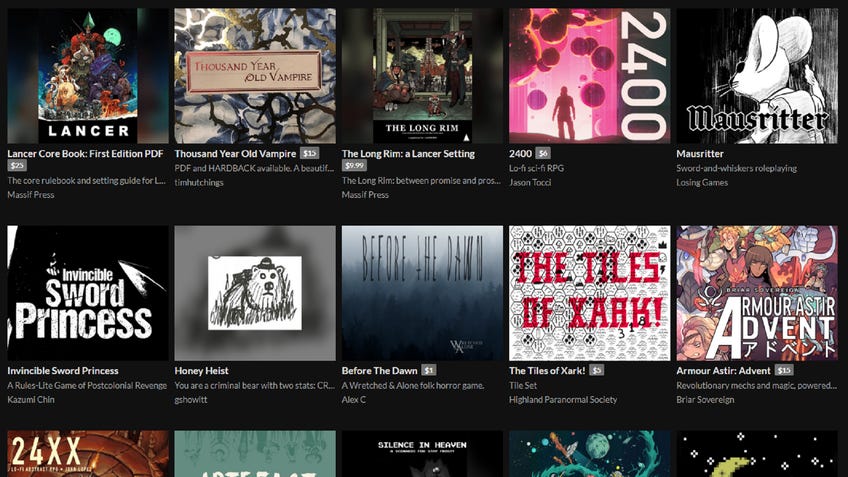 Indie RPG marketplace Itch.io will be offering a way to hunt bargains and help creators in the same breath by waiving their cut of all sales on the platform for 24 hours.
The annual shopping blitz that is Black Friday will look much different for the many folks prioritising public safety over hunting for deals outside their home. But those taking their savings sleuthing online can peruse Itch.io's catalogue of physical and digital games while creators take a larger slice of the payment pie, according to an announcement from Itch.io's director of business and content Spencer Hayes.
The platform has become a popular darling for both creators and players by offering a sliding scale of revenue split controlled by those listing their games. By default, Itch.io takes 10% of every sale, but the individual listing the game can modulate Itch's cut anywhere between 100% to zero. Compare those numbers to DriveThruRPG, arguably the largest online seller of tabletop resources. DriveThruRPG's selling info page says it grabs 35% of every sale automatically or 30% if creators exclusively sell their products with the retailer.
Itch.io has developed a reputation for hosting smaller and more experimental games that would otherwise find no home among traditional storefronts. Popular titles on Itch.io include the radical mech RPG Lancer, plane-jumping fantasy adventure Troika! and blood-tinged journaling game Thousand-Year-Old Vampire. A constant schedule of community-run game jams mean the offering of interesting new titles updates regularly.
Itch.io's Black Friday revenue sale runs from midnight PT on November 27th to midnight on November 28th. Running alongside this event will be a site-wide sale active until 10 a.m. PT November 30th.