Indie platform Itch.io's inaugural Creator Day eschews revenue cuts for 24 hours
The first of many?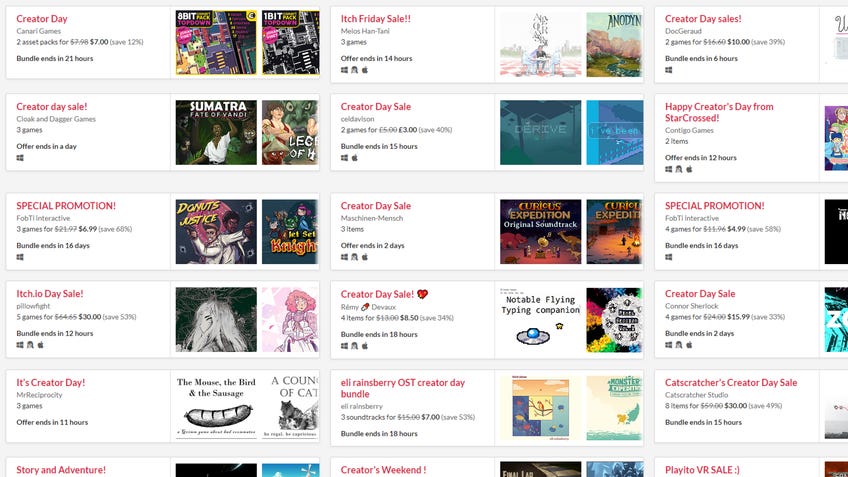 Popular indie game platform and storefront Itch.io is running its first ever Creator Day throughout May 14th, funneling 100% of all revenue from sales directly to creators. That makes it the perfect time to snag something new to play and support designers with every cent.
Spencer Hayes, content and business lead at Itch.io, announced the initiative in a post on May 12th, explaining that the company would forego its usual cut of digital purchases and allow creators to receive all profit after taxes and processing fees. This is beyond Itch.io's regular operating procedure that allows all creators to modulate how much revenue they share with the company, down to a minimum of 10%.
Those who purchase music online will likely recognise this as a similar model to Bandcamp Friday, a monthly event where musicians and artists similarly take advantage of full profits from any sales on their albums or singles. Initiatives like Bandcamp Friday and Creator Day are meant to drive sales, of course, but also grease the wheels of discovering something new or finally pulling the trigger on art someone has long admired.
"We hope to make this a regular event to give developers an excuse to share and promote their works," Hayes wrote. Creators do not need to change anything on their end to take advantage of the event, and Itch.io ensured that any previous revenue sharing setting will be restored after Creator's Day ends.
Tabletop designers have fully embraced Creator Day, either promoting their work on social media or creating sales so that interested players can grab a collection of related games or supplemental material, such as hacks and adventures - with as much ease as Itch.io's sometimes frustrating user experience will allow.
🗓️ THIS FRIDAY is our first ever @itchio Creator Day!

What's that? We're setting everyone's revenue share to 100% for 24 hours. Learn more here: https://t.co/sRq7CpdI0d

Thanks for being incredible and supporting @itchio and all the creators we host #gamedev

— itch.io (@itchio) May 12, 2021
Those who use Twitter can search the #creatorday hashtag to discover artists posting bundles, such as Galactic 2E designer Riley Rethal - she has teamed with Wanderhome creator Jay Dragon and several others to provide a collection of digital tabletop RPGs. Sleepaway's excellent mixture of Belonging Outside Belonging mechanics with a creepy summer camp setting is almost worth it alone, but you'd be remiss not to read Rethal's two-player mech experience, Link.
Sandy Pug Games, designer of the ridiculous 10 Million HP Planet, has bundled that anime fight simulation game and more than a dozen others from their indie studio in one place. Those interested in the work of Jamila Nedjadi - designer of Balikbayan and the upcoming Apocalypse Keys - can purchase several titles from their Sword Queen Games label at a half-off discount.
It's well worth perusing the bundles page on Itch.io to see what catches the eye or whose name springs off the page. Discoverability for indie artists is difficult and constant work that doesn't guarantee success. Creator Day and similar efforts ease that labour load a little and provide players the perfect opportunity to take initiative on seeking out new and interesting games.