Tokaido is getting a sequel, Namiji
Prepare to go fishing.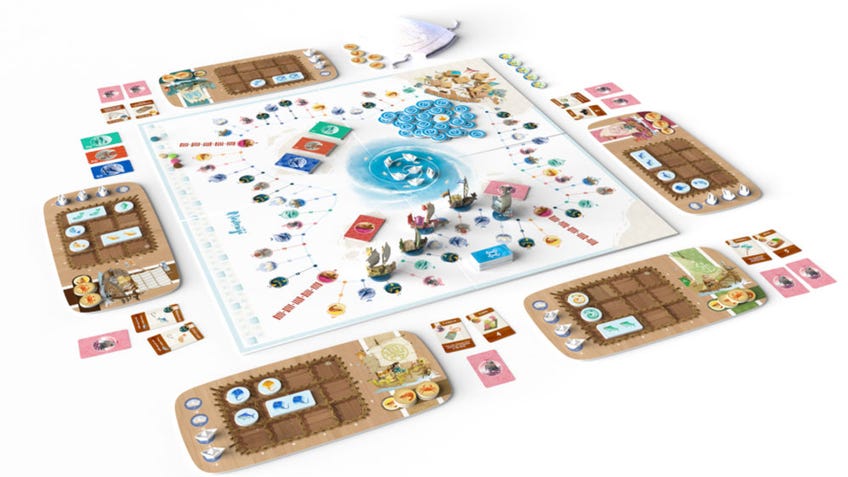 Tokiado, Antoine Bauza's tranquil board game about crossing ancient Japan, is getting a sequel called Namiji.
Namiji is a standalone board game where players are fishers in the Japan of yesterday. This newest edition to the Tokaido universe moves the setting from an ancient seaside road to an ocean filled to the brim with fish, ripe for catching. Namiji's gameplay has you sailing across the Japanese archipelago to strategically collect various fish, crustaceans and cephalopods in order to best your allies. The entire board is a once-round trip, meaning that players will have to plan their moves to best suit their current catch, and maximise their potential for points before everyone returns home. There will also be opportunities to improve your boat's equipment and appease the powerful gods of the sea.
According to the game's Kickstarter, Bauza's vision for Namiji was to provide more for fans of his previous games.
"I wanted to make Namiji a new experience for people who have discovered board games through Tokaido," the designer said.
As with panda-feeding game Takenoko and co-operative fireworks card game Hanabi before it, Namiji is yet another of Bazua's games that's clearly inspired by Japanese culture.
The Namiji Kickstarter has collected more than £350,000, after being successfully funded in just three hours. This particular achievement comes off the back of the designer's previous game, Tokaido, having sold about half a million units worldwide since its release in 2012. Tokaido, a game in which players raced to experience the myriad of attractions across Japan's 'East Sea Road'. This was eventually followed-up by a collector's edition, which managed to raise over £511,000 during its Kickstarter.
The base pledge tier gets you a copy of the designer edition of Namiji, which is exclusive to the Kickstarter and includes all the unlocked stretch goals. The designer edition includes pre-painted boat minis, cards and boards all designed by Tokaido artist Naiade. Several of the Kickstarter's stretch goals feature even fancier versions of their work, including linen-finished cards.
There's currently no mention of a retail release, so this Kickstarter may be the only chance to get a copy of the game. At least, it's guaranteed that the Kickstarter-exclusive Namiji: Designer Edition will not be available anywhere else.