New Pokémon TCG expansion brings original 151 to Scarlet & Violet - including Kadabra
This special set marks Kadabra's first appearance since magician Uri Gellar's infamous lawsuit over bent spoons.
All of the original 151 Pokémon are coming to Paldea via a special expansion to the Pokémon Trading Card Game, including the reappearance of Kadabra after stage magician Uri Gellar dropped his lawsuit against the spoon-bending critter.
Pokémon TCG: Scarlet & Violet—151 will launch outside of Japan on September 22nd and contain 200 cards that players and collectors won't find in individual booster packs. Much like last year's Crown Zenith, this is a promotional expansion whose booster packs will only be packaged in metal tins and other collectible boxes.
Card art will show all 151 Pokémon from the franchise's earliest days exploring the environments of Paldea. If nostalgia doesn't ring your bell, a glut of alternate art treatments like will - this set will include a variety of illustration rare and special illustration rare art on nearly 50 different cards. Three cards - Snorlax, Mewtwo and Mew Illustration Rare can only be found in the promo slot of specific boxes and not booster packs.
Here's a quick rundown of some of the rarities likely to become chase cards from this set (which is already garnering massive demand in Japan):
12 Pokémon ex
16 illustration rare and seven special illustration rare Pokémon and Supporter cards
16 ultra rare full-art etched Pokémon and Supporter cards
Three hyper rare gold etched cards
Zapdos, Mew and Alakazam are three of the confirmed Pokémon ex - that last one is significant because it will mark the return of Kadabra to the trading card game for the first time in 18 years. Abra's spoon-bending evolution was barred from appearing on cards or in the anime thanks to a £60 million lawsuit by stage magician Uri Gellar, who argued at the time that the Pokémon Company stole his likeness and trademark illusion for Kadabra.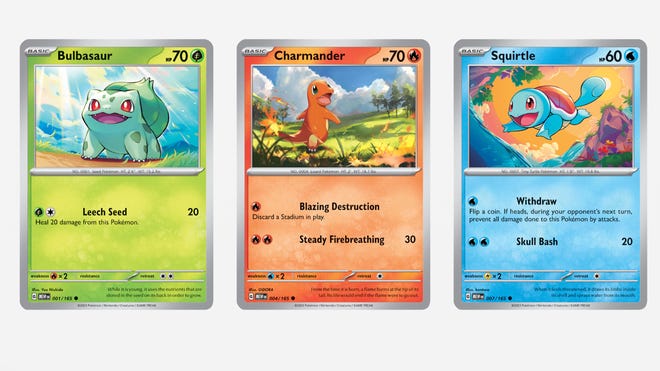 Gellar dropped that suit in 2020 amid pressure from Twitter and his daughter, but not before claiming that its eventual reprint "will probably be one of the rarest cards now".
Pre-orders for Pokémon TCG: Scarlet & Violet—151 have already begun, with some tins and boxes already available to claim on The Pokémon Company's website and through Pokémon Centers. It will officially release on September 22nd, but Pokémon TCG Live players gain access on September 21st. The promotional cards will be sold through the in-game shop for an undisclosed amount of premium gem currency.