Our D&D actual play series Storybreakers is now a podcast!
Catch up with the first season in audio form, or experience it for the first time.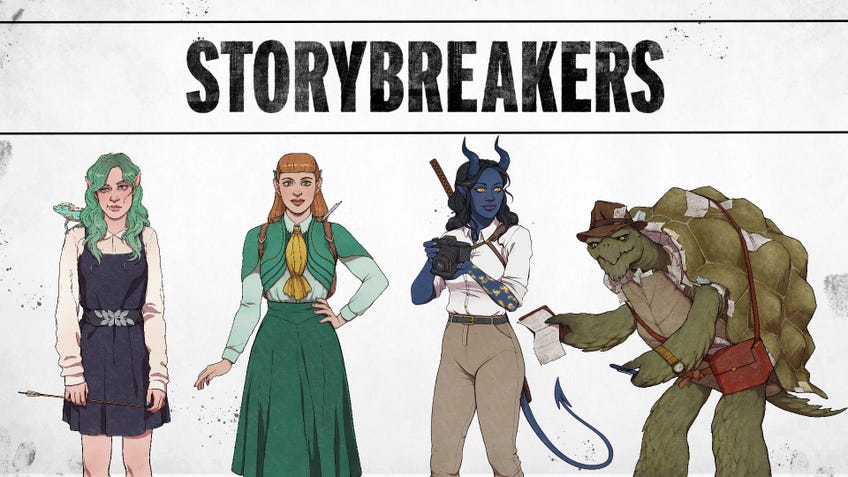 If you haven't watched our new Dungeons & Dragons series Storybreakers, good news! You can now catch up in audio form with the new Storybreakers podcast.
Storybreakers is our ongoing D&D 5E actual play, following a party of intrepid journalists as they investigate mysterious happenings in the fantasy town of Ragrump. Between an experienced photographer, a veteran reporter and two new interns, they begin to uncover a far-reaching conspiracy that runs deep beneath the town's welcoming surface. (Find out more about the world and characters here!)
With comedy, drama, mystery and heroics all in healthy supply, think of it as a mix of Critical Role, Hot Fuzz and Spotlight!
We recently wrapped our first season of Storybreakers over on the Dicebreaker YouTube channel, spanning 14 roughly hour-long episodes - so no need to sit down for half a day to watch the latest episode.
While we plan the show's second season, due to premiere soon, we're excited to say you can now experience it again - or for the first time! - in podcast form.
Head over to Spotify, iTunes or add the RSS feed to the platform of your choice to listen to the first four episodes now, with the rest of the first season due to drop in similarly digestible chunks over the coming weeks. (Android fans, the podcast will also be available on Google Podcasts shortly.)
We absolutely love recording Storybreakers and sharing this world, its characters and stories with you, but don't just take our word for it! Here's what some of you had to say about the first season:
"This has been an amazing ride and I hope you are all incredibly proud of what you've done here. Storybreakers has been one of the funniest and moving actual plays I've seen and I can't wait for more, whenever that may be!"
"Narratively the strongest new D&D show in a good while, impeccable showing by everyone, bravo!"
"So tense and emotional, fantastic roleplaying."
"This was just such a good season. You all did such a great job at using the D&D 5E system for character-driven roleplay, since D&D is so combat-driven."
"Thank you all so much for this amazing series. You've made my Fridays so much better with your presence."
Find the Storybreakers podcast on Spotify and iTunes now, with the RSS feed here.