UK Games Expo 2023 apologises after rejecting RPG over queer content
Avery Alder's Dream Askew was blocked from appearing due to "themes of sexuality or orientation", while Jay Dragon's Sleepaway reportedly saw its event description changed to remove references to queerness.
A tabletop RPG was blocked from appearing at this year's UK Games Expo due to its themes of sexuality and queerness, leading to an apology from the event's organisers.
RPG designer W.H. Arthur tweeted that he had offered to run live sessions of Avery Alder's Dream Askew and Jay Dragon's Sleepaway at UK Games Expo 2023, the UK's largest tabletop convention, most recently held in Birmingham's NEC this past weekend.
However, according to Arthur, his proposed live session of Dream Askew was turned down, with its queer content and themes specifically cited as a reason for the refusal.
"In the email I got with regards to Dream Askew's rejection, one of the organisers wrote 'we don't have game [sic] with themes of sexuality or orientation in them at Expo'," Arthur told Dicebreaker.
As per Alder's own summary of Dream Askew, the RPG depicts "Queer strife amid the collapse". The game casts players as the members of a queer enclave in an apocalyptic setting, who must work together to survive in the face of society's collapse, the emergence of strange psychic forces and gangs roaming the wasteland. The relationships between the members of the group - be it simple solidarity or something more involved or romantic, like love - are typically central to the stories told by the RPG.
Arthur's live session of Sleepaway was successfully accepted for a Friday afternoon slot during UK Games Expo, but later saw its event description reportedly modified so that "reference to queerness was removed".
Jay Dragon's RPG - which uses the dice-less, GM-less Belonging Outside Belonging system seen in Alder's Dream Askew - puts players in the role of leaders of a summer camp besieged by a shapeshifting monster called the Lindworm.
Publisher Possum Creek describes the RPG on its site as: "A horror game of Belonging Outside Belonging about a group of summer camp counselors protecting their queer youth from a monstrous cryptid."
"I am pretty sure I described the game as a 'Queer horror RPG on summer camp shenanigans and exploration of identity', but the word 'queer' was removed in the published version of the event," Arthur recalled.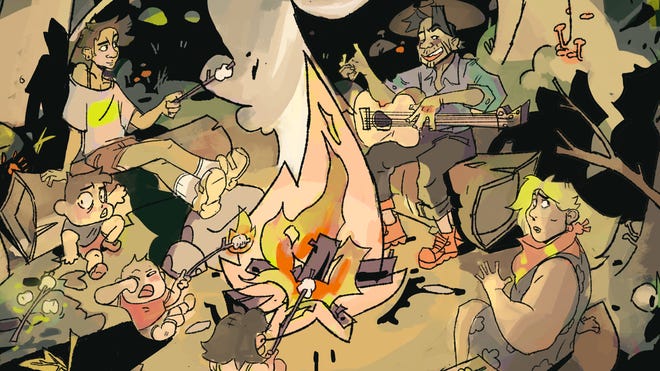 Sleepaway's full entry on the UK Games Expo site draws directly from the game's overview on Possum Creek's site, but omits the opening section referencing its queer themes:
"In Sleepaway, you play as a camp counselor at a not-so-ordinary summer camp besieged by a Strange and ominous cryptid. In the outside world, people grow increasingly alienated from their own identities, trapped in a miasma of advertising and corporate branding. Isolated from civilization, this summer camp is a beacon of safety, a refuge for misfit kids defined by their marginalization. As time pushes past and the world grows older, this camp also shelters the survivors of the Lindworm.
"Sleepaway uses the Belonging Outside Belonging system, popularized by games like Dream Askew by Avery Alder and Dream Apart by Benjamin Rosenbaum. It is a diceless game where tokens are received for making Weak Moves (actions that make your life harder), and these tokens are spent on Strong Moves (actions that passionately succeed). In Belonging Outside Belonging games, everyone shares the role of facilitator, and each person can pick up Setting Elements to bounce off of and provide narrative impetus for the other players."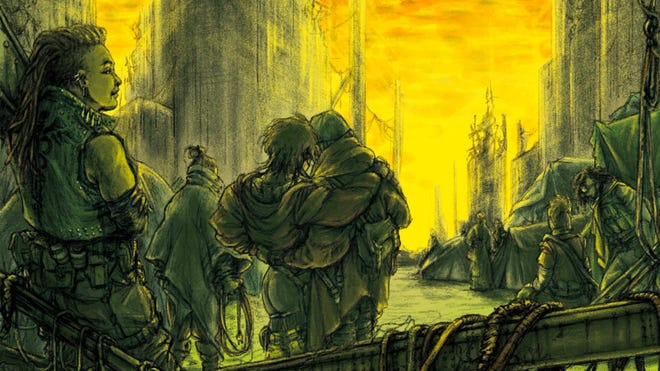 UK Games Expo's 2023 Volunteer Policy accessible via its website does not specify any themes or content deemed as being unsuitable for sessions. Submitted RPG games are instead stated as requiring review and approval by the event's RPG manager.
UK Games Expo's general Attendee Terms - which apply to all visitors, exhibitors and staff - state that "intolerance due to gender, race, religion and sexual orientation" is "unacceptable and would not be tolerated at UK Games Expo".
The 'Running an Event' page on the UK Games Expo website requires those who offer to run an event to agree to the volunteer policy, as well as stating that all volunteers - including game umpires and GMs running RPG sessions - must attend an online webinar ahead of the event in order to "ensure that both your experience and that of the visitor is enhanced and that the events are run in an environment that is safe and secure". However, Dicebreaker has been told that multiple GMs registered to volunteer at this year's event were not invited to attend any such webinar before the event.
UK Games Expo directors Tony Hyams and Richard Denning issued a statement to Dicebreaker - as well as sharing it via Twitter - acknowledging that "two errors were made in run up [sic] to this year's UKGE".
"Firstly an RPG scenario was rejected prior to this year's show due to subject/theme of sexual orientation. Secondly, new GM's [sic] did not receive their Volunteer Orientation training," Hyams and Denning said.
"On the first matter we have reviewed the email chain between the RPG Manager and the individual submitting the game and have found that this is true. UKGE does not accept scenarios containing "sexual content" due to the past experience of this type of content causing distress and upset to players. However, this does not extend to sexual orientation. The volunteer made an error of judgement in conflating the two and UKGE offers our unreserved apologies to the GM.
"It is not our policy to censor based on sexual orientation and we failed the GM by rejecting the scenario and the volunteer by not giving sufficient support and advice. The volunteer was over sensitive to an incident that occurred in 2019 and stepped over a line. We have always tried to be an inclusive and diverse convention, welcoming all. Sometimes we make mistakes, and this was one such time.
"On the second matter this was an error in administration where two people each thought the other had dealt with the matter and so the training was not set on the administration system. It only affected the new GM's but this was still a mistake on our part and we are updating our computer systems to ensure it cannot happen again. We hope you understand that running a large and complex event we do make mistakes but we will also try to learn from them and do better in the future."