A New York board game cafe is joining the wave of unionisation across TCG, RPG and tabletop companies
Workers cite unfair wages, lack of job security and "ineffective grievance procedures" as catalysts for unionisation.
Workers at the New York City-based board game cafe Brooklyn Strategist have announced their intentions to unionise, citing a number of issues including unfair wages, job insecurity and "ineffective and retributive management".
Twenty-five members of the nascent Brooklyn Strategist Workers Union will file for an election with Workers United NY/NJ Regional Joint Board after owner Jon Freeman immediately refused to recognise the staff collective, according to a press release. A super-majority representing over 75% of the cafe's staff have signed the request, which was published to Workers United's Twitter account on November 1st.
"Morale among staff members is low due to ineffective and retributive management, unfair compensation for our labour, a lack of security in our jobs and management's protection of problematic and abusive employees," the petition reads. "In the past, you have commented that a union would destroy the 'flexibility and friendly work environment' of The Brooklyn Strategist. We are unionising because our experiences as employees have been neither flexible, nor friendly."
The petition further claims that employees who ask for raises or raise complaints about management abuse are "brushed off", while dedication and exemplary performance in skilled labour and childcare positions are paid at or near minimum wage.
Freeman is the co-owner of Hex & Company, a New York board game cafe chain that currently runs the largest business of its type in Manhattan. Workers at Hex & Company launched their own union efforts in early October asking for minimum wage and adequate staffing in overtaxed stores.
According to BoardGameWire, workers claim Freeman and co-owner Greg May also refused to acknowledge that union of more than 70 workers before allegedly enacting union-busting tactics within stores, such as captive audience meetings and efforts to remove specific members from the bargaining unit - two common strategies leading up to elections protected by the US National Labor Relations Board.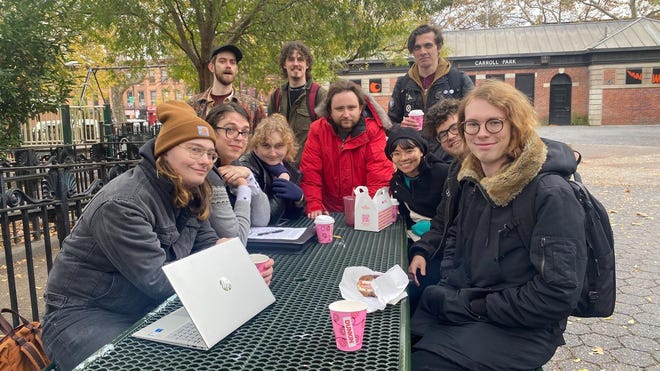 Hex & Co's workers are still waiting for movement from management, and the Brooklyn Strategist Workers Union seems ready to weather similar treatment. "We are asking for voluntary recognition so that we may, together, collaborate to address the issues your employees face and ask you to offer a competitive wage in the fields the business operates in," the petition reads. "The motto of the Brooklyn Strategist is 'Up Your Game'- all we are asking is that you hold true to that motto by upping your game and doing better by the people who work so hard to make your business profitable."
Brooklyn Strategist and Hex & Company's workers join a burgeoning movement of unionisation across the US. Workers United NY/NJ is a joint board with Starbucks Workers United, which has overseen the unionisation of 360 Starbucks locations across the country.
The tabletop industry itself has caught the collective action shine - Pathfinder and Starfinder RPG maker United Paizo Workers kicked off a string of worker bargaining that now includes TCG resellers TCGPlayer Union (still bargaining) and Card Kingdom Union, along with tabletop retailer Noble Knights Games and Mox Boarding House's board game cafes.
Update: Jon Freeman is now correctly listed as the owner of The Brooklyn Strategist, and also co-owner of Hex & Company.