9 best Disney board games for House of Mouse fans
When going to Disneyland isn't an option.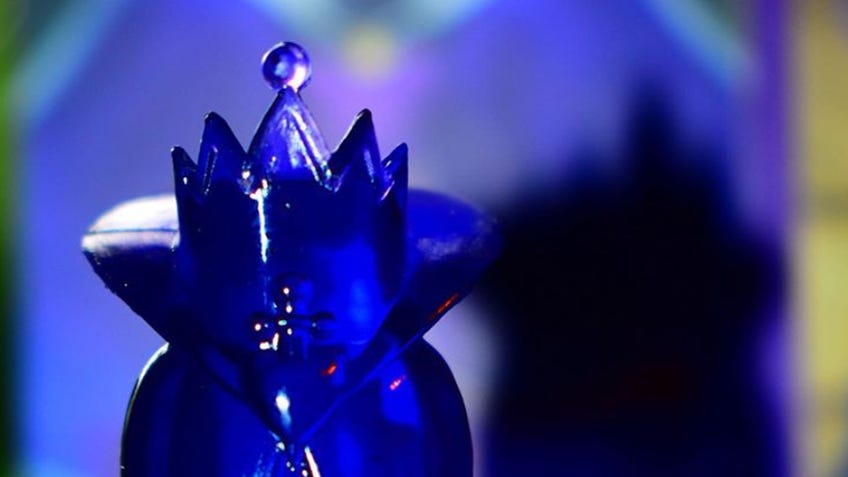 Fed up with re-watching Frozen, Soul, Raya and the Last Dragon, or any other Disney or Pixar film over and over again with your child? Can't get those incredibly catchy tunes out of your head? Maybe you're the person driving your friends round the bend with regular trips to see the latest release from the beloved animation studio? There are plenty of other ways to indulge your obsession with the House of Mouse beyond coughing up for a horrendously expensive trip to Disney World - and one of the most entertaining is by playing the best Disney board games from the iconic animation studios.
Well, not to worry - we've amassed the best Disney board games here, where you can buy them, and what you can expect from each one. Read on to sort your dalmations from your Dobbles.
Best Disney board games
Whether you're looking for a quick board game to bring out whilst waiting for the next train or a great beginner board game to introduce to a less experienced player, this list is stocked with a wide variety of Disney board games to choose from regardless of the where, the who and the when. So get ready to wish upon a star and have all your tabletop dreams come true with our recommendations for the best Disney board games of all time.
1. Toy Story: Obstacles & Adventures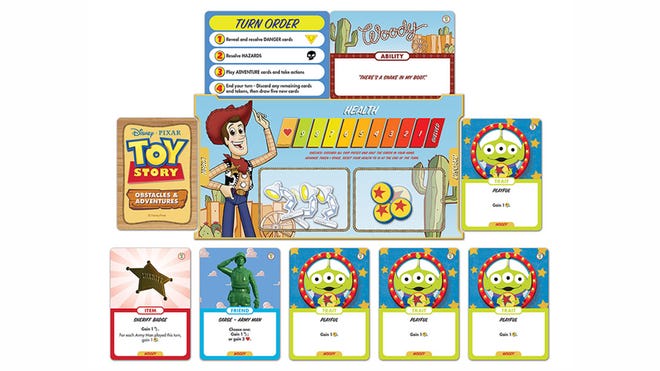 As the film that kicked off Pixar's now legendary career, it makes sense that Toy Story should be paid its dues by the tabletop world - and this board game adaptation does a more than stellar job of paying homage to the beloved series. Giving players the option to play as Woody, Buzz Lightyear, Bo Peep and Rex, in this fantastic family board game fans can not only embody their favourite Toy Story characters, but also experience key moments from all four films as well as interact with the likes of Hamm and Mr Pricklepants.
Of course, you can't have heroes without villains and Toy Story: Obstacles & Adventures has plenty of baddies standing in the way of the toys, including the bratty Sid and devious Prospector Pete, that players will need to team up against if they're to save the day. The life of a toy is a dangerous one with countless enormous obstacles to overcome; luckily for the players, they have their fellow toy friends to rely upon for help.
A deckbuilding board game for two to five players similar to the beginner-friendly Harry Potter: Hogwarts Battle, Toy Story: Obstacles & Adventures sees players using their cards and character abilities to battle and navigate their way through six different chapters, each one based on a different storyline from the series.
As each chapter is completed players will get to unlock and experience the next one, with plenty of opportunities to upgrade their decks and grow in strength throughout. This progression element is what makes Toy Story: Obstacles & Adventures more than just a faithful adaptation, but also a really engaging Disney board game to play.
Buy Toy Story: Obstacles & Adventures on Amazon US and Amazon UK.
2. Disney Pixar Labyrinth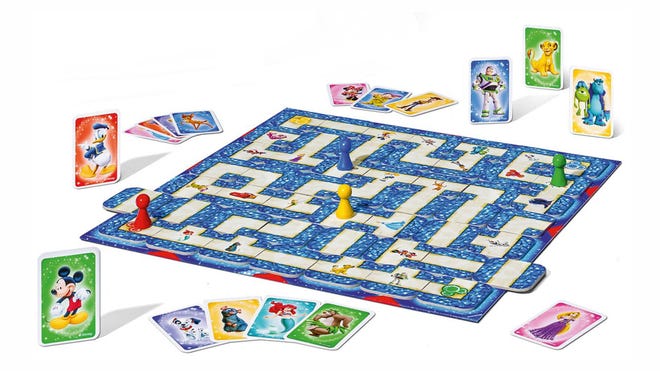 Labyrinth is an undisputed tabletop classic, having first emerged onto the scene in 1986. The family board game has seen many different iterations in the decades since and continues to remain a favourite of players both young and old. Formerly known as The aMAZEing Labyrinth, this board game for two to four players provides a simple yet immersive experience that translates nicely into a Disney board game.
As with the original board game, Disney Pixar Labyrinth presents players with a board displaying a maze made up of fixed tiles that they must navigate through. Players can progress through the labyrinth by sliding in tiles that show different pathways - opening up new routes throughout the maze - and which might throw up various obstacles that the players need to overcome, as well as glittering treasures. By sliding tiles in and out of the rows of the maze players can push a tile out of the other side of the board; this lone tile is what the next player must add to the labyrinth on their turn. If a player wants to win then they need to carefully slide the right tiles to create a path through as many treasures as they can, before eventually leading to an exit.
Disney Pixar Labyrinth may be a very straightforward board game for kids, but it still provides opportunities for strategy and puzzling, which even older players can find some challenge in. Add to this a charming mixture of beloved Disney and Pixar characters such as Sully & Mike, Ariel and the great Mickey Mouse himself, and you've got a great Disney board game.
Buy Disney Pixar Labyrinth on Amazon US and Amazon UK.
3. Codenames: Disney Family Edition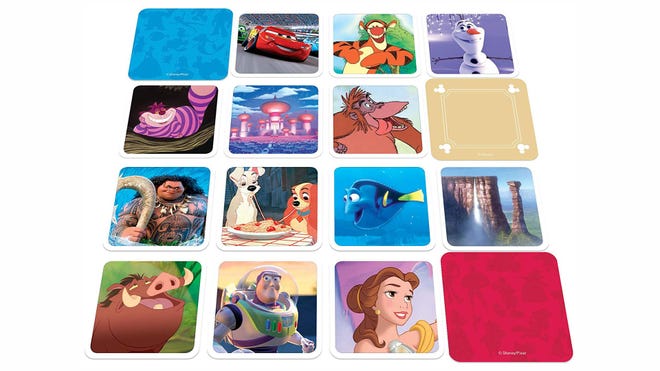 Say you're hosting a Disney or Pixar-themed birthday/anniversary/engagement/bat mitzvah and you're after some good wholesome entertainment that all your guests can get involved in. When it comes to party board games you can't really go wrong with Codenames - it's become a modern classic and even my parents know what it is - and luckily enough for you, there is a Disney Family Edition that features a wide array of classic Disney and Pixar characters and images from the movies for fans to enjoy.
Designed to be played with two to eight players - although it is possible to play the game with more people - Codenames: Disney Family Edition is much like the original Codenames in that two teams race against one another to guess all their hidden words before their opponents do.
The board game begins with one player on each team becoming the spymaster - this is the person who must give clues to their teammates - and a grid of cards showing Disney-related images or words being laid out on the table. Each spymaster gets to look at a secret display showing which cards their team needs to guess in order to win, with the spymaster needing to ensure their team doesn't accidently guess an opponent's card or the one card that can instantly lose them the game. Spymasters then take it in turns to give their team a one-word clue to help them guess the cards they need to, with the other players selecting which cards they think are correct.
What makes playing Codenames really fun is seeing how different people interpret different ideas - no one spymaster is going to give the same clue and no one player is going to make the same connections - as it adds a ton of excitement and makes things unpredictable. Having Disney be the topic of each word and picture helps further shape this already brilliant board game into something every Disney fan can love.
Buy Disney Codenames: Disney Family Edition on Amazon US and Amazon UK.
4. Cranium: Disney Family Edition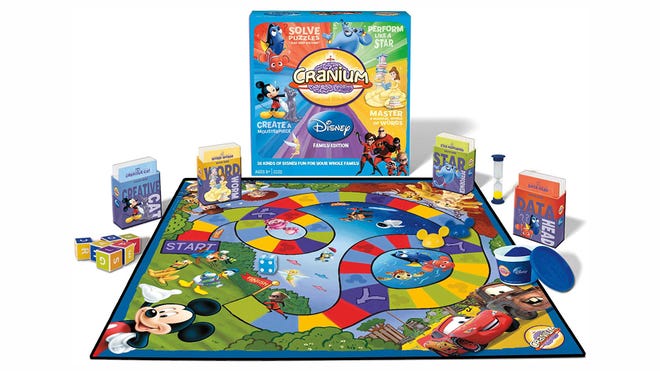 There are many board games that are designed to test your logic, knowledge, creativity or charisma, but what about one that does all four? Cranium is a modern classic party board game that features a variety of modes intended to challenge different parts of the brain, whilst still providing plenty of opportunities for ridiculousness and mayhem. And yes, brainy board games can still be fun ones, no matter how many examples there might be to the contrary.
A family board game, successor to the likes of Trivial Pursuit and Pictionary, Disney Cranium supports from four people to a whopping 16 players and features everything from trivia questions about the various Disney films and properties to word challenges that challenge players to unscramble phrases and figure out the Disney-related answer. Perhaps the most entertaining of these elements are the Creative Cat challenges - which see players using clay to create iconic Disney imagery, such as Cinderella's glass slipper - and Star Performer, where players are tasked with whistling a Disney song or acting like a Disney character.
The variety of different activities that Cranium offers is what makes it such an engaging board game to play with friends and family. What's more is that the Disney Family Edition of Cranium provides even more joy by turning the tools of the original into references to beloved characters such as Belle from Beauty and the Beast and the Incredibles. All this together makes for a wonderful Disney board game that both tests the mind and tickles the funny bone.
Buy Cranium: Disney Family Edition on Amazon US and Amazon UK.
5. Snow White and the Seven Dwarfs: A Gemstone Mining Game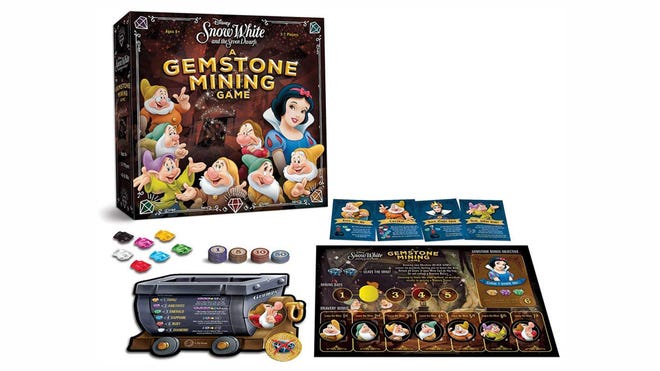 Snow White is not only the first Disney film ever made, but undoubtedly one of the most beloved as well, with oodles of iconic imagery that continues to hold fast in the minds and hearts of fans the world over. From the classic soundtrack to the beautiful animation, it's no wonder that Snow White has perhaps one of the best board game adaptations of a Disney property.
Snow White and the Seven Dwarfs: A Gemstone Mining Game transports players into the magical world of the Disney film, whilst providing some rather engaging mechanics to boot. Based on the push-your-luck board game Quartz, it features exciting gameplay that will have players sweating in no time. The Gemstone Mining Game sees three to five players assuming the role of one of the seven dwarves, as they attempt to collect as many gems to bring home to Snow White as they can. But be warned: get too greedy and players might have to return home empty-handed - so they'll have to be careful to balance the risks with the rewards. Whichever player gathers the most points by giving gems to Snow White is named the game's ultimate winner.
For all its tension and challenges, Snow White and the Seven Dwarfs: A Gemstone Mining Game is still a perfect board game for kids - even if younger players might need a bit of help from an adult. The gorgeous artwork and lovely production value makes this Disney board game an absolute gem for any fan.
Buy Snow White and the Seven Dwarfs: A Gemstone Mining Game on Amazon US and Amazon UK.
6. Colour Brain: Disney Edition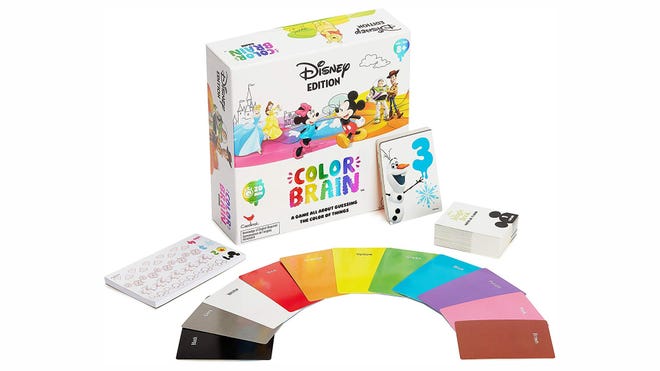 From something that tests your mettle to something that tests your memory, Colour Brain: Disney Edition is a party board game that's very easy to learn but a lot of fun to play. Based on the colourful card game from Big Potato, Colour Brain: Disney Edition takes all the mechanics found in the original and gives them a uniquely magical twist by theming the cards all around classic Disney imagery.
Rounds of Colour Brain: Disney Edition are incredibly simple. Each player holds a hand of 11 cards, each one representing a different colour: red, blue, yellow, orange and so on. Every round, someone plays a question card that players have to answer using their colour cards. For example, the question card might ask what colour Woody's vest is. Players must then answer using the number of colour cards listed on the question card. Once everyone has placed their colour cards facedown they are flipped over, the right answer to the question card is revealed and players score points depending on whether they've guessed the right colour cards. Players who got the answer right score as many points as players that got it wrong - but if every player answers correctly no-one scores anything. The first to 10, wins.
Featuring characters from 20 different Disney films, Colour Brain: Disney Edition doesn't only provide plenty of vivid artwork and fan favourites, but also a splendid time for everyone involved. Suitable for both youngsters and oldies alike, Colour Brain: Disney Edition is a fast and fun Disney board game that'll bring a bit of colour to your next game evening.
Buy Colourbrain: Disney Edition on Amazon US and Amazon UK.
7. Disney Villainous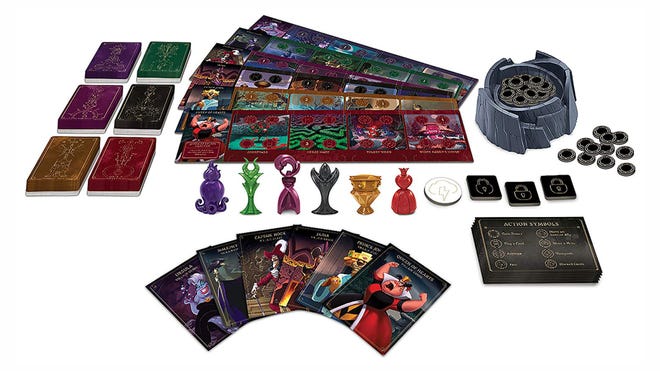 It's not all about the heroes - sometimes it's good to be bad. No-one knows that more than the various villains that have schemed and plotted throughout Disney history. Ursula, Maleficent, Captain Hook, Jafar - all of these ne'er-do-wells have tried and failed to do evil. In Disney Villainous it's their time to finally shine and triumph in their nefarious deeds. In Disney Villainous you're not rooting for the goodies, because it's all about the baddies, baby!
Disney Villainous is what's known as an asymmetric board game, which means that each player has their own unique goal they're looking to accomplish and a different set of tools they need to use in order to win. For example, the player who chooses Prince John from Disney classic Robin Hood will have to gather 20 total power in order to win the game, while Captain Hook is looking to defeat Peter Pan and Jafar wants to become a genie. Every player has their own domain - or player board - to move around on, with each location from their respective film offering different actions that the player can do on their turn. These actions could be things like playing allies, defeating heroes, discarding cards and more, with players being able to do any of the actions listed on their current location during their turn. Each player's deck additionally holds various allies to help them perform their dark bidding, as well as items or other cards they might need to play in order to win the game. However, players also have a fate deck which contains heroes or other cards designed to impede their villain's progress that other players can draw from and play into their domain.
When compared to many of the other board games found on this list, Disney Villainous can appear a little overwhelming. However, don't let its initial complexities put you off as it's actually a fantastic beginner board game for newbies looking to take their first steps into the tabletop hobby. Disney Villainous really commits to its good-to-be-bad theme and provides a refreshingly unique flavour of Disney that's perfect for those fans that always liked the villains best.
Buy Disney Villainous on Amazon US and Amazon UK.
8. Dobble Disney Princess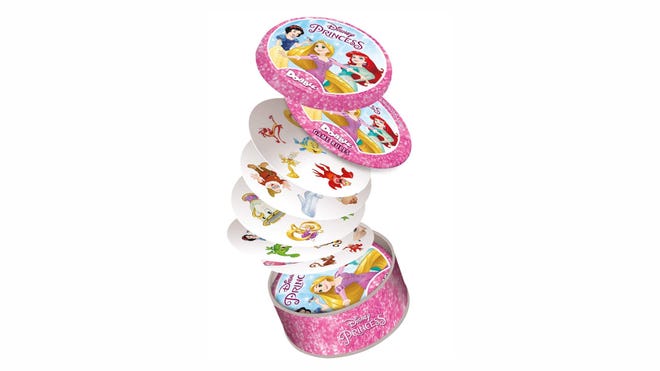 Not only does Dobble Disney Princess have a really nice bit of alliteration to it, it's a great little card game for kids that want to use their brains and have fun with their favourite Disney films. Squeezed into an adorable little tin that's perfect for trips during the summer holidays, Dobble Disney Princess - alongside Dobble Disney Cars and Dobble Disney Finding Dory - is based on a beloved travel board game that anyone can play.
Every round plays simply enough, with all two to eight players needing to keep their eye out for matching symbols on each of the cards played. Two cards are flipped over and the first player to correctly identify a symbol shown on both cards wins that round. For example, if two cards showed Flounder the fish from The Little Mermaid, then the player who points that out quickest gets both cards. Rounds continue in this fashion until all 55 cards have been taken, which signals the end of the game. The player holding the most number of cards is then named the winner, and the game can start all over again - if you so wish.
That's the beauty of Dobble Disney Princess: it's so quick to play and easy to set up that it's hard to resist launching into game after game. What's more, the tin includes multiple different ways to play, so it'll keep you entertained while you wait for the next big sequel. Not to mention that being able to admire all that lovely Disney imagery is a delight and will undoubtedly please fans of Rapunzel, Ariel, Cinderella, Mulan and more Disney Princesses.
Buy Dobble Disney Princess on Amazon UK.
9. Talisman: Kingdom Hearts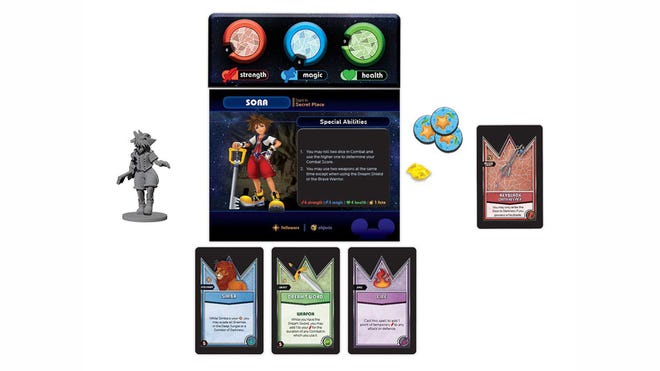 Originally released by Warhammer maker Games Workshop all the way back in 1983, Talisman is a board game set in a fantasy world of wizards and barbarians fighting for glory. Fast-forward to 2019 and Disney fans can now enjoy their own version of the classic adventure board game with Talisman: Kingdom Hearts, which features iconic Disney characters such as Mickey and Goofy - alongside characters from the video game series, like Sora and Kairi. This version of Talisman retains the solid structure of the original, whilst adding a beautiful Kingdom Hearts theme and some nice-looking miniatures of the series' characters.
Set in the universe of Kingdom Hearts - a galaxy filled with Disney worlds and characters and characters from the RPG video game series Final Fantasy - this board game for two to six players sees players searching for the power they need to seal away the Door to Darkness threatening all the interconnected worlds. Spread across three different regions, players must journey through each area by rolling dice and facing various dangerous encounters in the hopes that they will pick up equipment and treasure to help them on their quest. As in the fantasy Talisman, players need to have a certain amount of power in order to enter the next region, with each area becoming harder to cross until they reach the Door to Darkness and must face whatever challenge lies therein. The winner of Talisman: Kingdom Hearts is whoever successfully defeats the final challenge and closes the Door to Darkness - so players will have to be prepared before venturing within.
Talisman has remained popular for as long as it has because it has a formula that works. The sense of adventure, the thrill of taking on a new challenge and the gradual progression system all work together to make for an engaging experience. Talisman: Kingdom Hearts provides the extra bit of panache that Disney and Kingdom Hearts fans can both revel in, making it a definite pick for the best Disney board games.
Buy Talisman: Kingdom Hearts on Amazon US and Amazon UK.