Boop. and Turing Machine among big winners at 2023 American Tabletop Awards
The US' largest tabletop awards also honoured Carnegie and Planet Unknown
The American Tabletop Awards recently spotlighted four board games as their 2023 winners, including the adorable cats-on-bed title Boop. and punch-card computer puzzler Turing Machine.
This year marks the fifth annual American Tabletop Awards, which selects standout board games, card games and other tabletop titles in four distinct categories - Early Gamers, Casual Games, Strategy Games and Complex Games. As with past years, the winner was chosen by a committee of judges from among three nominees, who are also listed on the official website alongside judges' recommendations.
Founded in 2018, the ATTA's main goal has been to establish a broader version of the Spiel des Jahres or the As d'or that shines more light on titles published outside of Europe - specifically the sizable US tabletop market.
Boop. clinched the win in the Early Gamers category, which highlights shorter games aimed at younger audiences or those new to the hobby. The committee praised the marriage of an irresistible theme with an abstract strategy that runs deeper than it appears at first blush. Designed by Scott Brady and published by Smirk & Laughter Games, Boop. caught the attention of the Dicebreaker team when we first saw it at PAX Unplugged 2022.
Also nominated in this category was Nathan Thronton's party game Green Team Wins and Downtown Farmers Market, a rural tile placement board game from Johan Benvenuto and Alexandre Droit. The judges recommended the slippery card game Kites, designed by Kevin Hamano, and Exploding Kittens' competitive party game Mantis.
Turing Machine brought home the Casual Games laurels, which are awarded to approachable titles that offer substantive appeal to any skill level. Designed by Fabien Gridel and Yoann Levet, the competitive code-cracker impressed the committee with its physical construction - players align a trio of actual punch cards in their race against an analogue computer. Both the logical problem-solving and Le Scorpion Masqué's production value pushed Turing Machine over the top.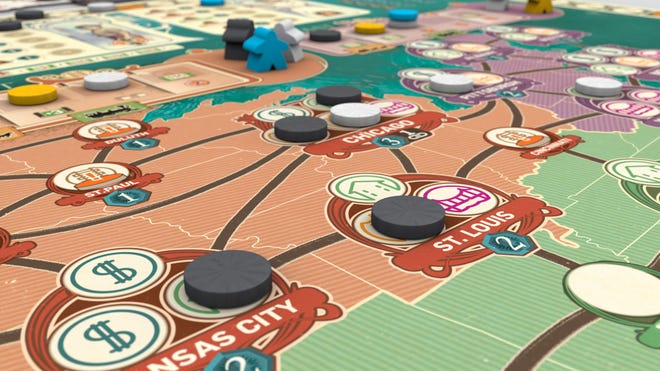 The other nominees include Chris Handy's Long Shot: The Dice Game and Jules Messaud's Akropolis. The former is a quick and dirty race of bluffing, betting and trusting fate to the roll of the dice, while the latter is a hex-based city planner where players compete to construct the most harmonious destination. The committee's recommendations in this category were Blue Orange's Next Station: London and Bezier Games' Cat in the Box: Deluxe Edition.
Ryan Lambert and Adam Rehberg's Planet Unknown found victory in the Strategy Game category, coming out on top amongst board games where complexity takes higher precedence and sessions tend to last a bit longer than a lunch break. The committee explained that while Planet Unknown is a busy "grab bag of interesting features and gameplay" all of it synchronises with a surprising ease that sets it apart from the other nominees.
Speaking of, the other titles that aimed for gold included Ben Pinchback's and Matt Riddle's community farm roll-and-write Three Sisters (one of my favourites of last year) and Paperback Adventures from Tim Fowers and Skye Larson. Restoration Games' massive and popular Return to Dark Tower and AEG's The Guild of Merchant Explorers round out the judges' recommendations for this slightly crunchier category.
The last category, Complex Games, represents the peak of rules density and demands on players' time. Among these chewy experiences, Xavier Georges' Carnegie rose to the top. Players are tasked with building an industrial empire that eventually connects both of the US' coastlines. The judges hailed the asymmetry and depth of strategic options, saying that Carnegie may be one of the best route-building board games in recent memory.
Also nominated in this category was Mathias Wigge's Ark Nova, an environmental-themed economy board game that captured the hobby's attention for a while last year, along with John D. Clair's Dead Reckoning - this crunchy title mixes a Caribbean piracy theme with both card drafting and the massive management of 4X board games. The judges recommended Cephalofair's enormous campaign board game follow-up Frosthaven and My Father's Work, a legacy title steeped in horror, fringe science and narrative choices.
More information about the judging committee and each winning board game is available on the American Tabletop Awards' official website.