Crime-solving board game Detective is getting a quicker, stripped-down spin-off
Speedy sleuthing.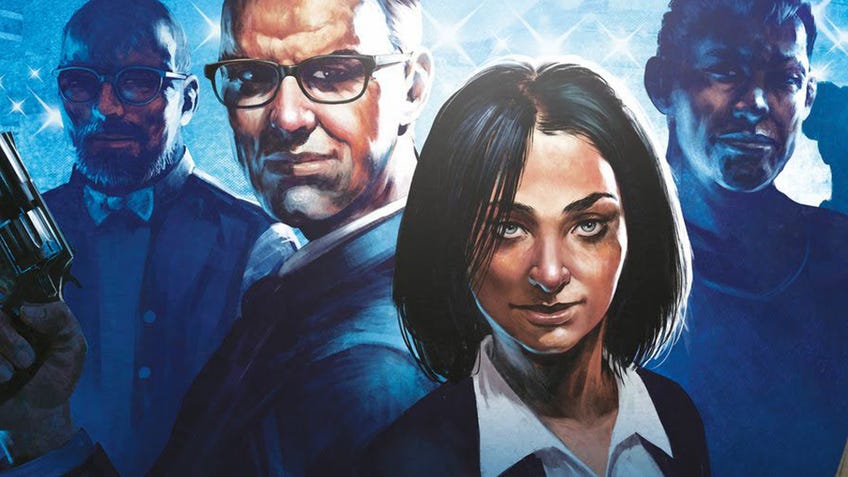 Solve a series of mysteries in a single night with Detective: A Modern Crime Board Game - Season One, a simplified spin-off of the 2018 crime-solving board game from the designer of Robinson Crusoe: Adventures on the Cursed Island.
In Detective, a co-op board game for one to five players, the investigators are tasked with solving five separate cases and gathering enough evidence to figure out what connects them together. Using an online companion app, players can search through a dedicated database for information on suspects, past cases and possible witnesses - all of which can help the players to piece together the solution.
Once all five cases have been cracked players must then solve the overarching plot that will reveal the mastermind behind the whole crime and close the case for good. As soon as players have puzzled out the solution to this last mystery, the game ends and the investigators are victorious.
Detective: Season One is a spin-off board game announced by publisher Portal Games that aims to give newer players an introduction to the gameplay system used in the original by providing a shorter, simplified experience.
The standalone game features three different cases, including one set in an old mansion in the English countryside inspired by Agatha Christie's Poirot and Miss Marple stories. One of the Season One cases, Natural Causes, was previously released as a free downloadable demo for the original game.
Natural Causes will be replaced on the Portal Games website by another free demo case for Detective called Suburbia, which will focus on an abandoned neighbourhood that has a mystery hidden somewhere inside. It will similarly play in around 90 minutes and does not require players to own the board game.
As well as the original Detective, its expansion LA Crimes and the upcoming board game, Portal Games has published co-op board game Robinson Crusoe: Adventures on the Cursed Island, its sci-fi spiritual successor First Martians: Adventures on the Red Planet and civilisation-building board game series Imperial Settlers. All of those games were created by Portal founder Ignacy Trzewiczek, who also led the design of Season One.
Detective is receiving another standalone spin-off designed by Trzewiczek later this year. Vienna Connection is a spiritual successor that takes place during the Cold War and has players assuming the role of investigators seeking to uncover secrets surrounding a mysterious death.
Vienna Connection and Detective: A Modern Crime Board Game - Season One are both set to be released sometime in 2020, with exact release dates to be confirmed.