First big expansion for Lord of the Rings: Journeys in Middle-earth leaked
The Moira you know.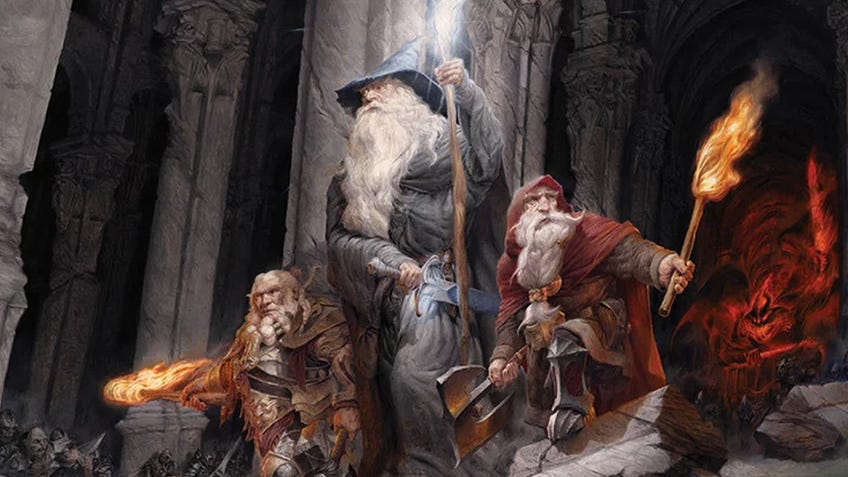 Lord of the Rings: Journeys in Middle-earth appears to be getting its first big box expansion next month, after it was apparently leaked early on a Australian retailer's website.
According to the product page on The Gamesmen, Shadowed Paths will focus on the darker elements of Lord of the Rings' lore by having players explore two new locations in Middle-earth - the depths of Mirkwood and long-forgotten Mines of Moria - in a complete campaign that includes 13 different scenarios for players to encounter.
Also supposedly featured in Shadowed Paths is a collection of new heroes, enemies, items and terrain for players to include in the expansion's campaign - or add to any campaign found in the original Journeys in Middle-earth or its subsequent expansions and DLC.
A co-op board game for one to five players, Journeys in Middle-earth follows the adventures of classic heroes from the franchise including Aragorn, Gimli and Bilbo Baggins, as they attempt to thwart the schemes of the various dark forces spreading across the land. Taking place between JRR Tolkien's The Hobbit and The Lord of the Rings, Journeys in Middle-earth has players travelling across different iconic locations fighting enemies, helping other characters and fulfilling their own unique objectives. The game is played using a companion app on PC or mobile, much like horror board game Mansions of Madness - to which Journeys in Middle-earth is a spiritual successor.
Journeys in Middle-earth has received two previous expansions in the form of Hunt for the Ember Crown and Villains of Eriador, as well as a new adventure mode for the companion app, all released last year.
However, Shadowed Paths will apparently be the first extensive expansion released for Journeys in Middle-earth since its launch in 2019. According to the leak, the expansion will seemingly be priced at AU$134.95 (around £70) and is set to be released in February.
Dicebreaker has reached out to publisher Fantasy Flight Games for further information.
Edit: This story previously stated that The Gamesmen is a German retailer. It is an Australian retailer. The story has been updated accordingly.