Le Boomb! is an explosive new party board game from the makers of Munchkin
Detonating with dice.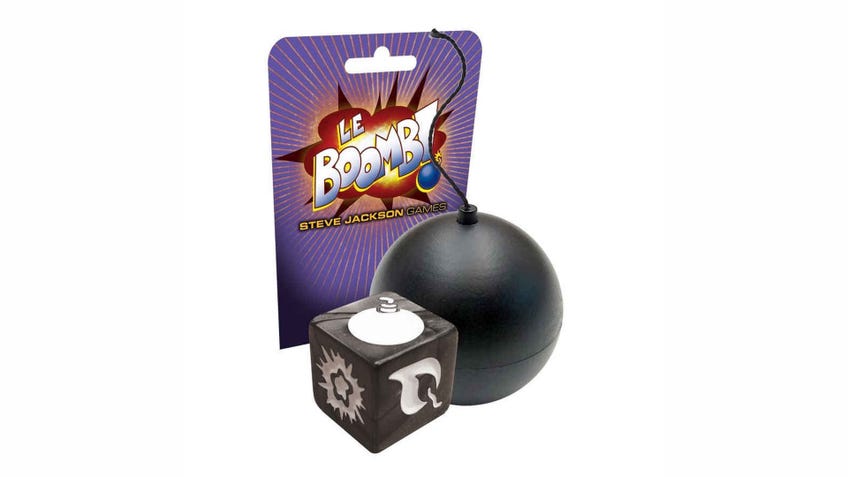 Pass the bomb along before it explodes in a new party board game from the publisher behind the Munchkin series, called Le Boomb!
A casual dice game for two to 16 players, Le Boomb! has players taking turns to roll a die in the hopes that they're not holding the titular bomb when it goes off. The bomb can explode in two ways - either a player is unlucky enough to roll an explosion or a wick is rolled three times in a row - and once detonated the player holding the bomb is instantly knocked out.
Players can receive the bomb by rolling a bomb symbol on the die, which happens to be the most commonly found icon, and can only pass it on once another player has rolled a bomb themselves.
The game ends once a single player remains standing and is declared the winner.
Le Boomb! was originally designed by H. Jean Vanaise - the creator behind tile placement board game Horus - and published by Mayfair Games in 2009, before the board game went out of print.
This new reprint is being released by Steve Jackson Games, the company behind party board game Zombie Dice and family board game Deadly Doodles, and looks to be sticking close to the original ruleset.
Steve Jackson Games recently completed a successful Kickstarter campaign for vehicular combat miniatures game Car Wars: Sixth Edition, to which backers pledged over $652,000 (around £499,000) to get the next entry in the series published.
According to Steve Jackson Games' online store, Le Boomb! is set to release "soon" priced at $6.95 (around £5).