Arnak expansion The Missing Expedition adds two new leaders and a solo campaign to the hit board game
Journalists do not fare well in jungle environments.
A new expansion has been announced for Lost Ruins of Arnak, bringing two new expedition leaders to the popular board game. The Missing Expedition will also include a six-chapter campaign designed for solo or cooperative play when it releases later this year.
Publisher Czech Games Edition released an early trailer and bits of information on March 21st, detailing what we can expect to find inside the box. Players will be able to choose the Journalist or the Mechanic as their expedition leader, each with their own unique research tracks. The journalist excels at uncovering hidden details in the forest (is he interviewing monkeys?), while the mechanic focuses her efforts on repairing any machine abandoned in the thick undergrowth.
Both can be easily added to Arnak's base experience or combined to tackle the expansion's story scenario, which sounds as if it builds upon The Search for Professor Kutil - released for free in 2021. One or two players can attempt to retrace Kutil's seemingly doomed adventure to Arnak across six chapters, using carrier pigeons to trade resources and discovering story content that links the scenarios into an overarching narrative.
The Missing Expedition will introduce a new meta system to Arnak especially designed for the solo/cooperative campaign. Perks, bonuses and story elements can be unlocked via play and will be based on the choices players make on encounter cards that crop up in each scenario. Exact details are vague at the moment, and Dicebreaker has reached out to CGE for more information.
All of the new cards, items, encounters and other implements will be fully compatible with Lost Ruins of Arnak's core multiplayer experience and can be mixed in once your playgroup surmounts the campaign. The Missing Expedition will be the second substantial addition to Arnak, following up on 2021's Expedition Leaders.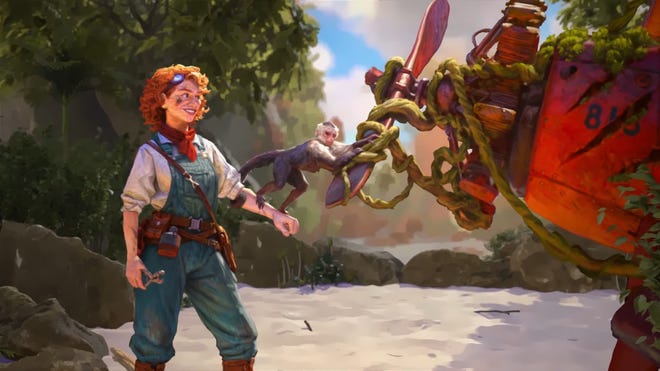 If you haven't had a chance to explore the dangerous and treasure-filled island, you're missing out on a multiple-award winning board game created by spousal designer duo Mín & Elwen. Arnak is their first published title, and it found nearly immediate popularity within the hobby and Dicebreaker's own ranks.
CGE said The Missing Expedition is currently looking for a US release coinciding with Gen Con 2023, followed shortly thereafter by Europe. In the meantime, check out Dicebreaker's list of other great worker placement board games and cooperative experiences to whet that adventurous spirit.