Parks: Memories is a new spin-off from last year's board game about hiking through US national parks
A branching path.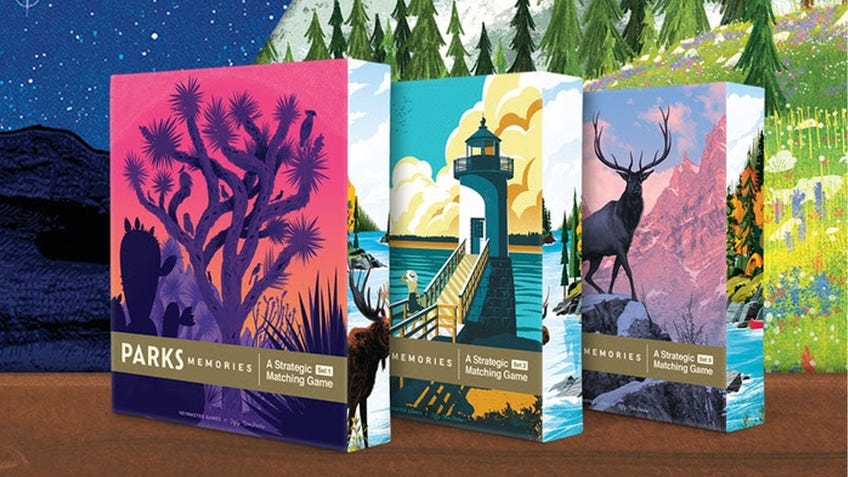 Parks: Memories has been announced as the spin-off to the game about visiting US national parks and collecting mementos along the way.
A tile-matching game for two players or teams, Memories is said to be inspired by people's experiences of finding other national park hikers and sharing their stories. In the game players take turns to flip over two tiles before deciding which one they wish to take, with the aim to collect three sets of matching tiles before their opponent.
Each of the game's tiles show an image from the Fifty-Nine Parks series of prints celebrating various US national trails, with there being only one matching set for each illustration. This means that players will have to think ahead and react to their opponent's choices, as well as pay attention to what tiles have been shown and remember where they were.
Should a player flip over two tiles with matching resource symbols - such as sun, mountain, forest and water - then they will be able to use the corresponding ability to outwit their opponent and get the tiles they want. For example, the forest ability allows players to secretly look at an upcoming tile and see if it's one they might want.
Once one player has successfully collected three sets of matching park tiles they automatically win the game.
Parks: Memories will be available in three separate sets - each one based on a different type of terrain - that players will be able to mix and combine to create new tile collections to play with.
The first Parks game was created by Henry Audubon, published by Keymaster Games as a way of adapting the Fifty-Nine Parks print series and is one of our favourite two player games out there right now. A beginner board game for one to five players, Parks sees everyone moving one of their two hikers across a trail of tiles - with each tile providing resources and/or benefits for the hikers that camp there - in an effort to buy the most national park cards using their resources.
The campaign for Parks: Memories launches on Kickstarter on February 4th, alongside the Nightfall expansion for the original Parks.