Rising Sun has a comic book series now
Catch it while you clan.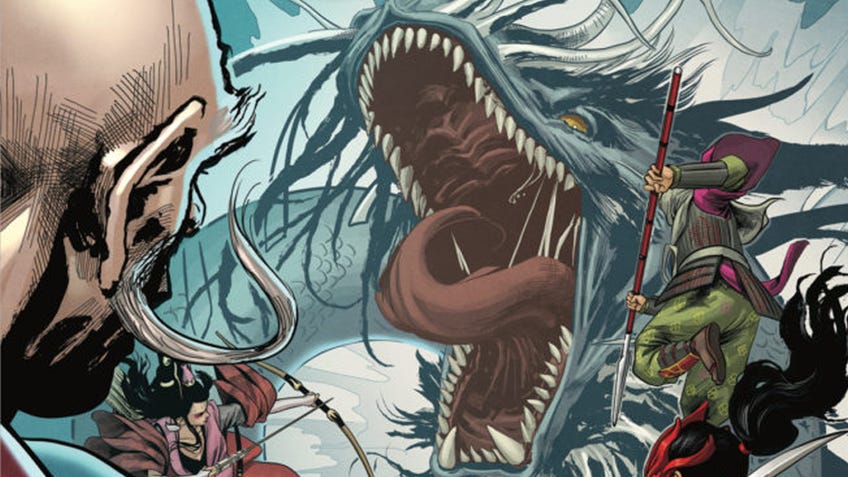 Rising Sun, the feudal Japanese board game designed by Eric Lang, is being spun out into a comic book adaptation.
The three issue mini-series features Koi Clan leader Chiyoko as she marches a team of warriors on the hunt for the ferocious beasts currently terrorising the country. The comic's blurb suggests that Chiyoko may have to face dissent from inside her own clan as she wages war against dragons.
As the series continues it will explore several original characters from Rising Sun's various other clans - Lotus, Bonsai, Dragonfly and Turtle - as well as giving readers the chance to discover new pieces of lore and world-building not found within the board game.
A game for three to five players, Rising Sun was designed by Eric Lang - who released Cthulhu: Death May Die last year - and has everyone taking control of their own clan during the feudal era of Japan. By commanding their forces, securing alliances, managing resources and gaining favour with legendary monsters players can grow their power and establish their clan.
Players also have to be mindful to pay homage to the godly Kami - as their otherworldly influence can greatly affect a game's outcome.
Rising Sun was released in 2018, after a successful Kickstarter that raised over $4 million. The game is the second chapter of Lang's 'mythic trilogy' - with the first being Viking board game Blood Rage, with the third chapter, Ankh: Gods of Egypt, coming to Kickstarter later this year.
The Rising Sun comic series is written by Ron Marz and David Rodriguez, who were both involved with the Skylanders comic series, and illustrated by Martín Cóccolo - the artist behind Star Trek: Year Five. Publisher IDW has previously released other comic adaptations of popular media such as Star Wars and Dungeons & Dragons.
The first issue is available now with sequential issues due to be released later this year.