A new Legend of the Five Rings board game is coming
Follow that River of Gold.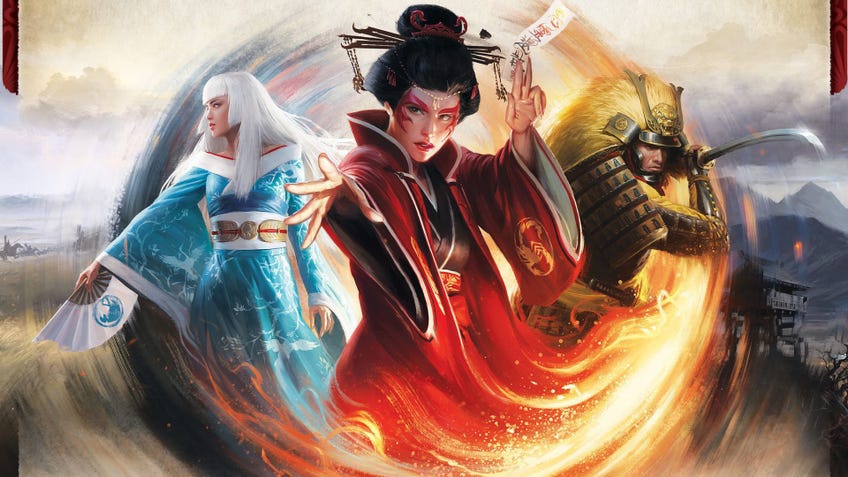 A new board game set in the world of the Legend of the Five Rings card game is on its way.
River of Gold is an upcoming board game that's set in the same universe as the Legend of the Five Rings card game, which was discontinued by its publisher – Fantasy Flight Games – in 2021. A board game that sees players developing their own businesses running along the titular golden river, which is not literally golden, River of Gold will focus on resource management and strategy rather than the intense duels of Legend of the Five Rings: The Card Game.
As aspiring entrepreneurs, players will be taking advantage of the exceptional trading opportunities presented by the river. Throughout the game, players will be able to drive up business by constructing locations alongside the river, as well as delivering various goods to customers and attempting to influence important people. Whoever is able to create and nurture the most profitable business is named the game's ultimate winner.
Geek & Sundry teaches you how to play Legend of the Five Rings: The Card Game.
River of Gold was designed by Keith Piggott, the creator behind roll-and-write board game for kids – Drawn to Adventure – and The Great Barrier Reef Card Game. Office Dog, a studio that was launched in May 2022 by Asmodee – the owner of various publishers such as Fantasy Flight Games and Ticket to Ride studio Days of Wonder – is the company behind River of Gold.
Besides River of Gold, Office Dog is also publishing several other new board games including a title by the designer of code-breaking board game Decrypto, Thomas Dagenais-Lespérance. The upcoming game will be called World Traveler and sees players using words to move through some of the most recognisable cities on Earth. During the game, players will want to use the fewest words possible to see as many key sites as they can reach.
The other title coming from Office Dog is called Crafting the Cosmos – from co-designers David Gordon and TAM – and has players building entire nebulas using the various forces that govern the universe : time, ionisation, light and gravity.
Watch on YouTube
Wheels highlights some of the most exciting upcoming board games.
Legend of the Five Rings: The Card Game is a living card game that has players competing against each other as different clans in the fictional universe of Rokugan. The universe of Legend of the Five Rings: TCG is inspired by Japanese culture and legends, with a tabletop roleplaying game also being set within the world of Rokugan.
Rivers of Gold is set to be released sometime in 2024, with a retail price yet to be confirmed.