Dinosaur Island creators announce first 'flick and write', Sonora
Desert dexterity.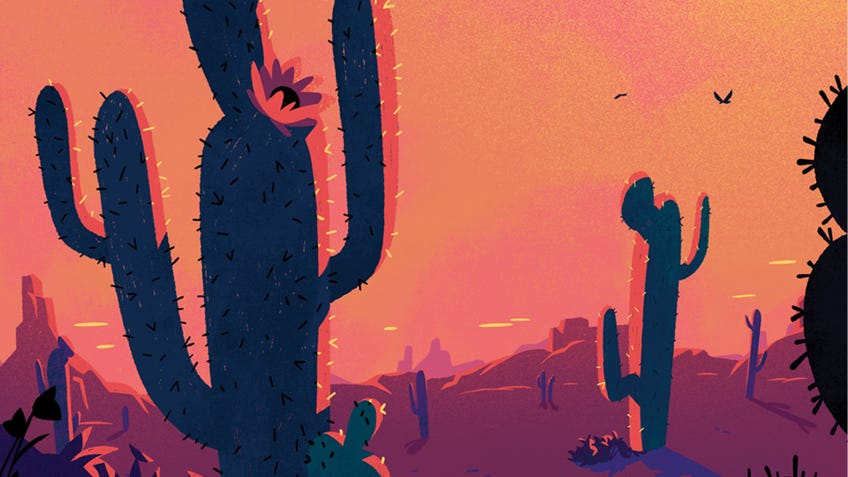 Test your dexterity and cunning in Sonora, the first 'flick and write' from the board game publisher behind Dinosaur Island.
A game for one to four players, Sonora combines gameplay commonly found in dexterity board games to create a hybrid of the two; players sketch out their own strategies to score points and attempt to successfully land their discs in one of the four areas of the game board. This is what publisher Pandasaurus Games has dubbed the world's first 'flick and write'.
A session of Sonora is split into two separate phases - the flick phase and the write phase - with players first looking to flick their discs into one of the unique scoring zones before they fill in their score sheets.
The Sonoran Desert is riddled with towering cliff faces and sloping canyons all ripe for disc-flicking and point-collecting, with each unique area offering new ways for players to score - or otherwise find themselves destitute of points.
Each of the game's zones allows players to score differently depending on how many discs they have in there, where they are and which sections of their score sheet they've already filled in; for example, the creek bed enables players to use their discs to move along the river the number of spaces matching the value of each disc. For example, a three value disc will move the player along three spaces down the creek and increase their chances of completing the area.
Once a disc value has been placed in a section on the score sheet it cannot be replaced or removed, which means players will need to plan ahead for the areas they want to score and where they want to place their discs.
Players will also have to be careful not to fire their discs out of bounds or into the various holes littering the game board, as they won't be able to use these for scoring during the writing phase of that round. Some players may even attempt to deliberately knock their opponents discs out of scoring areas in order to gain an advantage.
After the final write phase has been completed players add up their scores from each area along with any bonuses they've gained throughout the game, such as whenever players successfully form a shape on their score sheet in the Canyon area.
Sonora is published by Pandasaurus Games and is set to release on May 6th for $29 (£22).