Form a dexterous drawing duo in party board game Telestrations: Upside Drawn
Artistic allies.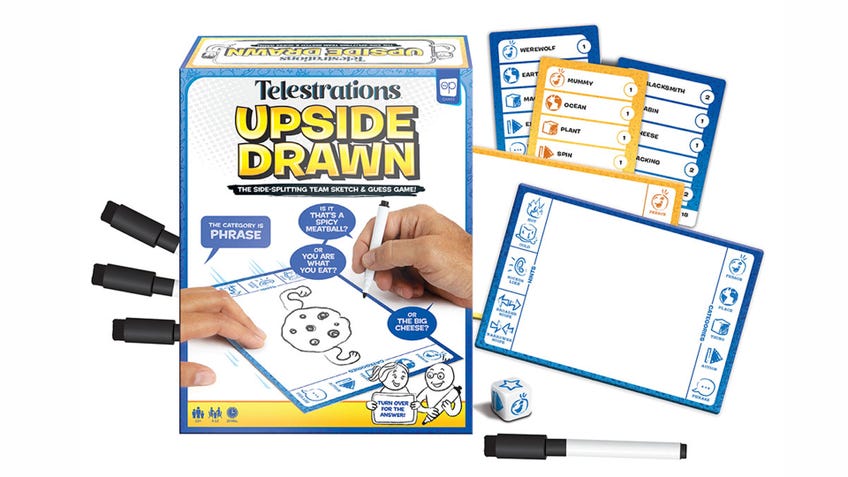 Collaboratively communicate and create in the latest spin-off from party board game Telestrations, called Upside Drawn.
Telestrations is a board game for four to eight players based on the classic public domain game, Eat Poop You Cat, wherein everyone receives a whiteboard and a secret word. Each player must then draw an image they think best describes their word under a time-limit, before passing their whiteboard to the next player and attempting to guess what they think their neighbour has drawn.
This process then continues until every player has gotten their original whiteboards back, wherein they check to see if the last player to guess has correctly identified their word. Points are then awarded based on correct answers and favourite drawings, with the player holding the most points at the game's end being named the winner.
Telestrations: Upside Drawn takes the formula of the original and transforms it into a game about teamwork, wherein two players have to work together to draw and guess before the others.
A board game for four to 12 players, Upside Drawn plays in rounds wherein one person knows a secret word and must successfully manipulate a whiteboard to help their partner - who doesn't know this word - draw an image. This image can then be used by all players to guess the word, with anyone being able to buzz in with an answer at any time during the drawing.
The winning team is whichever duo successfully guessed the most secret words, regardless of who was drawing at the time.
Telestrations: Upside Drawn was designed by Kane Klenko, the creator of dexterity board game Flipships and co-op board game Dead Men Tell No Tales.
USAopoly is publishing Upside Drawn as a celebration of over a decade since Telestrations first launched. The company is also releasing Scooby-Doo: Escape from the Haunted Mansion this year, which was created by the designers of Junk Art - Jay Cormier and Sen-Foong Lim.
Telestrations: Upside Drawn is to be released sometime in spring 2020 (according to website ICV2.com), and will retail at $19.99 (around £15).