Sci-fi miniatures game Infinity is getting some seriously big models
Out of this world.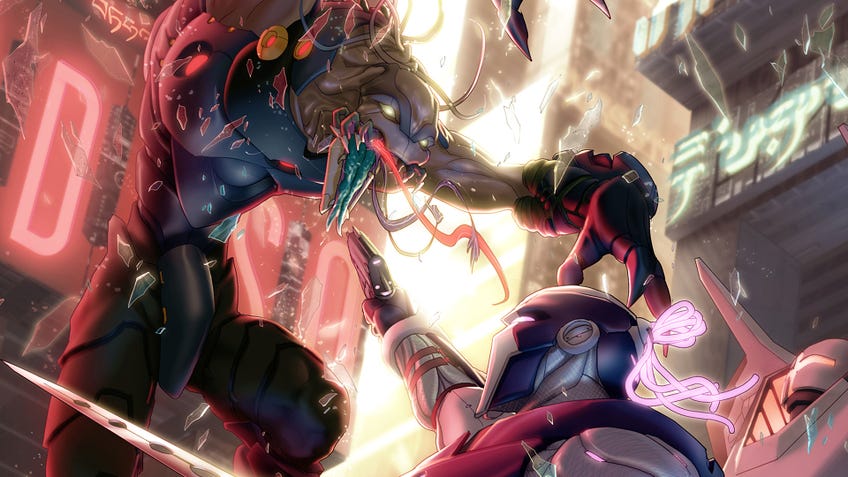 Infinity, the miniatures game set in a sci-fi universe with a manga aesthetic, is getting some new figures that aren't so miniature.
The new PVC models will be made in a 1:7 scale - roughly eight inches, or 20cm. Usually, Infinity's miniatures are metal and measure just 28mm.
In the world of Infinity, numerous great powers are in conflict, including an alien threat, an artificial intelligence's army and a group of nomads. You command a small group of elite soldiers and clash with other factions in skirmish battles.
The new giant miniatures will comprise three figures sculpted by digital sculptor Javier García Ureña, who has previously worked on miniatures in the Infinity series. The models come as a result of Infinity publisher Corvus Belli's collaboration with miniatures maker Busy Mind Collectibles.
Finally we can share the great news!
Corvus Belli S.L. and @BusyMindCollec1 sign agreement to release Infinity figures of 1:7 scale under Kickstarter campaign. Take a look at the first figure!.Enjoy. #corvusbelli #infinitythegame pic.twitter.com/ZHuYi6x3me

— Busy Mind Collectibles (@BusyMindCollec1) February 7, 2020
Infinity has expanded into both a tabletop RPG game, which features extensive lore about its world, plus an upcoming board game titled Infinity Defiance. The game's in-universe sport of Aristeia was spun out into a board game of the same name in 2017.
A dungeon-crawler, Defiance is a co-op board game that sees up to four players control a unit of four soldiers. Together, you'll work through several missions - the final of which will determine the fate of humanity. Infinity Defiance is estimated to land with backers in July.
The 1:7 Busy Mind Infinity figures will be available as part of a Kickstarter campaign starting in mid-April this year.