Get D&D 5E-compatible Lord of the Rings RPG, Adventures in Middle-earth, for under a pound
Now that's what I'm Tolkien about.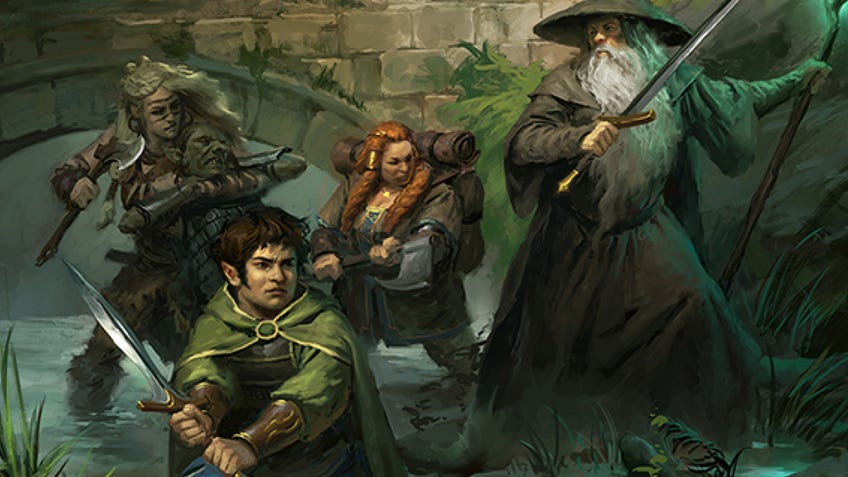 Nab all you need to play the Lord of the Rings Dungeons & Dragons 5E-compatible tabletop fantasy RPG Adventures in Middle-Earth from 77p at the Humble Bundle Store. Which, considering the full bundle of digital books comes to a rough value of $222 (£170), is quite the deal indeed.
Adventures in Middle-earth RPG is set after the events of The Hobbit but, fear not, because there is still plenty of peril to be had. It uses D&D 5E's basic rules, meaning folks who know how to play Dungeons & Dragons 5E needn't put in the time to learn a new RPG system.
$1 (77p) will get you a digital copy of the Adventures in Middle-earth Player's Guide, which grants you a starting point with the RPG, including specific rules and guidance for making characters and an adventure within the Lord of the Rings setting.
In addition, that single sweet dollar will net you The Rhovian Region Guide, which features an expanded bestiary containing a host of strange creatures, including Great Spiders, as well as detailed descriptions of expanded regions such as the Misty Mountains, plus new mechanics and character backgrounds.
Meanwhile, The Eaves of Mirkwood and Loremaster's Screen grant handy reference tables and a 32-page adventure of the same name, which comes with pre-generated characters for ease of access. You'll also nab a 30% discount coupon for Adventures in Middle-earth publisher Cubicle 7's webstore.
Tier two, which begins at $8 (£6.15), will get you even more supplements, including four huge maps that cover multiple regions, plus new gaming rules. Furthermore, the second-tier bundle includes long-form adventure Mirkwood Campaign, which spans 30 years of in-game time and will take your characters from level one to 15. The story sees you trying to avert the Darkening of Mirkwood and includes a visit to the Parliament of Spiders along with exploration of the Halls of King Thranduil.
Next, Wilderland Adventures features seven ready-to-play adventures, including one where you journey beneath the shadows of the Misty Mountains. Finally, the Adventures in Middle-earth Loremaster's Guide gives you inspiration, additional new roles and guidance for crafting immersive adventures within the setting.
Last but not least, the highest tier, which requires a $15 (£11.52) to unlock, grants you an additional five books. These include a guide to the Rivendell, Bree-land and Lonely Mountain regions, plus two adventure packs set in Erebor and Eriador.
Last year, Adventures in Middle-earth and its standalone Lord of the Rings RPG counterpart The One Ring were cancelled by publisher Cubicle 7 due to "contractual differences". As such, no further support or updates will be provided for Adventures in Middle-earth.
All proceeds from the sale of the Adventures in Middle-earth Humble RPG Bundle will go to nonprofit Worldbuilders, which supports humanitarian efforts worldwide.