The upcoming Dune RPG gets a name and first gameplay details
The spice of life.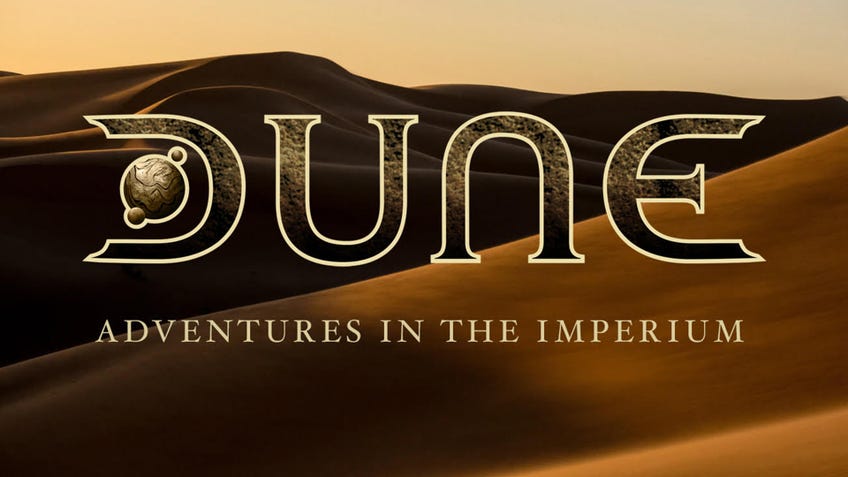 The upcoming tabletop RPG adaptation of sci-fi book Dune has been detailed, with Star Trek Adventures and Fallout: Wasteland Warfare studio Modiphius at its helm.
Dune is a series of sci-fi books written by Frank Herbert in the 1960s about an interstellar empire of colonised human worlds run by a collection of Great Houses. Much of the first book's action takes place on an arid planet known as Dune, home to a precious drug called spice - plus enormous sandworms.
The first novels in the series were later adapted into a 1984 film directed by David Lynch, infamous for being a box office bomb. A remake directed by Blade Runner 2049 director Denis Villeneuve and starring Rebecca Ferguson and Timothée Chalamet is due to be released in December 2020.
The tabletop RPG set in the Dune universe is currently being developed by Modiphius, and will be based on the company's 2d20 roleplaying system that is also being used for the recently announced video game RPG Dishonored, and has previously powered roleplaying games including Star Trek Adventures.
As reported by Polygon, players will be able to join one of the Great Houses featured in the original books, including House Atreides and House Harkonnen. There will also be the option to create a custom house based on one of the worlds in the Padishah Imperium.
The RPG's full title has also been revealed as Dune: Adventures in the Imperium.
The Polygon article notes that the RPG will both respect the source material and address the problematic elements of Herbert's writing. Among the notable designers and writers contributing to Adventures in the Imperium are Harlem Unbound and Haunted West creator Chris Spivey, Strek Trek Adventures designer Nathan Dowell, Dungeon World co-creator Adam Koebe, and Dishonored RPG co-writer Mari Tokuda, among many others.
Modiphius has been responsible for publishing several other adaptations of popular properties, including video games Fallout, The Elder Scrolls and Dishonored; Star Trek; Conan; and Thunderbirds, in a co-op board game by Pandemic creator Matt Leacock.
A board game adaptation of Dune was created in 1979 by Bill Erble, Jack Kittredge and Peter Olotka - the creators of the seminal board game Cosmic Encounter - and has been held up as one of the best board games ever made, despite being out of print for over three decades following the flop of the Lynch film. The board game was eventually rebooted by Gale Force Online - the company behind Firefly: The Game - by the original designers and released in 2019.
There is currently no set release date for the Dune: Adventures in the Imperium RPG. Dicebreaker has reached out to Modiphius for further information.