Free RPG Day reschedules 2023 celebration to escape shadow of MTG's Lord of the Rings set
"We know what side the bread is buttered on for a lot of stores."
This year's Free RPG Day will happen a week later than originally planned in order to avoid coinciding with what's expected to be a massive Magic: The Gathering set release.
As reported by ICv2, Gaming Days announced on March 21st that 2023's celebration would no longer take place on June 17th but instead bump to the following weekend, June 24th, to avoid sharing dates with MTG's Tales of Middle-earth prerelease. The crossover set will be the largest project in the trading card game's Universes Beyond imprint and is expected to draw both regular players and fans of JRR Tolkien's seminal fantasy creation.
"We try our best every year to schedule Free RPG Day in a way that allows game stores to get the most out of the event," Gaming Days' Paul Alexander Butler told ICv2. "The recent announcement of a hotly anticipated prerelease event on the 17th meant that stores would have to make a choice about what to feature. We know what side the bread is buttered on for a lot of stores, and we don't want this celebration of RPGs to feel less than in any way."
Free RPG Day offers publishers and local retailers a chance to pitch players on new systems by offering adventures, supplements and starter kits for free. Gaming Days boasts that more than 500 local game stores across the world now host a Free RPG Day event, and the organisation has partnered with Pathfinder creator Paizo, Avatar Legends maker Magpie Games and Critical Role's Marisha Ray for past events.
The offerings are always unpublished adventures and material designed specifically to draw players into trying a new RPG system for the first time. Previous years parcelled out Warhammer: Soulbound and Root RPG adventures, and Renegade Game Studio gave free copies of suburban wizard kid RPG Kids on Brooms during 2020.
This year will likely be especially popular given the dominant tabletop RPG, Dungeons & Dragons 5E, spent the first two months of 2023 angering fans and communities through its mishandled updating of the Open Gaming License. While the issue seems resolved for now, the animus to seek out alternative kitchen table entertainment remains and may find an outlet in Free RPG Day's roster of no-cost gaming goods.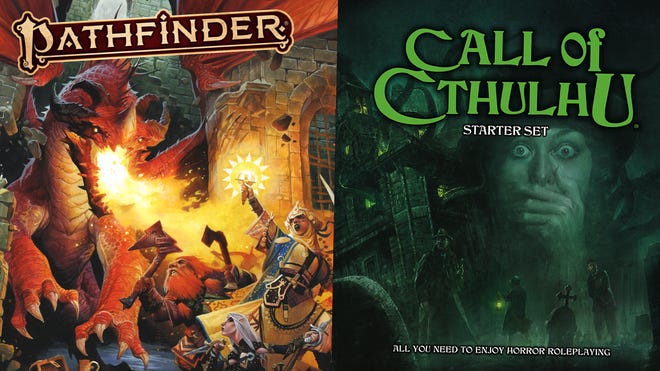 Speaking of, ICv2 published a comprehensive list of what it claims will be included in the 2023 kits. Retailers receive these kits from Gaming Days and can distribute them in any ways they choose - as long as they don't directly sell the Free RPG day material. Pathfinder and Starfinder will both have an adventure in the mix, and Free League included a quickstart for its upcoming Dragonbane RPG, which has deep Swedish roots and a sense of humour. Renegade returns with something for Vampire the Masquerade fans along with material for the recently published G.I. Joe and Transformers RPG systems.
Here's the full list, which includes 36 individual titles. Note that customers don't get everything on this list but can check with their LGS or other participating location on how they plan to distribute the material. Interested retailers have until May 31st to sign up for kits - more information on that can be found on Gaming Days' website.