Keyforge lead developer and Legend of the Five Rings co-designer leaves Fantasy Flight Games
Follows departure of studio head last month.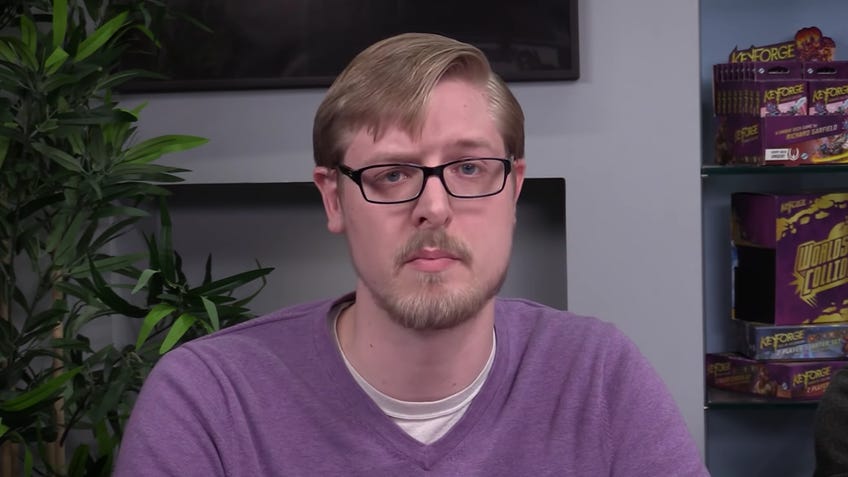 The lead developer of card game Keyforge has left Fantasy Flight Games after nearly a decade at the publisher.
Brad Andres was a designer at Fantasy Flight for nine years, contributing to living card games including the reboot of Legend of the Five Rings: The Card Game as a co-designer before taking the role of lead developer on Keyforge, the 'unique deck game' from Magic: The Gathering creator Richard Garfield.
Andres also worked on Warhammer 40,000: Conquest, the card game spin-off from the sci-fi miniatures game, alongside Blood Rage creator Eric Lang. His recent credits include Fallout: New California, the expansion for the board game based on the Fallout video game series.
In an emotional farewell announcement on the latest episode of Keyforge web series Crucible Cast, which Andres co-hosted, the designer called his departure from Fantasy Flight a "very difficult decision". Andres added that he was leaving to "pursue my next big adventure in life", and thanked designers and colleagues including Garfield as well as the Keyforge community.
I have made the difficult decision to leave Fantasy Flight Games. I talk about it more in this video. But I wanted to thank everyone for their love and support over the years. I can't wait for what's coming next. https://t.co/uSPFUUtQoA

— Brad Andres (@DarbimusPrime) March 7, 2020
Andres' move follows the departure of Fantasy Flight Games studio head Andrew Navaro last month, who joined Too Many Bones and Cloudspire publisher Chip Theory Games as studio manager in late February. Navaro's credits at Fantasy Flight included horror board game Arkham Horror, sci-fi strategy epic Twilight Imperium and living card game Android: Netrunner.
Earlier this year, several staff were allegedly let go from Fantasy Flight Games as the result of its video game studio Fantasy Flight Interactive closing down, fewer than three years after it was founded. Further reports claimed that the company's RPG division was similarly gutted by layoffs.