Pulled a rare Lorcana, MTG or Pokémon card? You can now get them professionally graded for just $9 (Sponsored)
Take note if you find an Enchanted rare in Rise of the Floodborn this weekend.
This article is sponsored by PWCC Marketplace. Visit the PWCC website to get your cards graded by one of its partners and list them for sale in front of thousands of collectors via PWCC's Weekly and Premier Auctions or Fixed Price Marketplace.
Collectibles auction house PWCC Marketplace will now let you grade and authenticate your valuable cards for trading card games such as Lorcana, Magic: The Gathering, Pokémon and Yu-Gi-Oh! from just $9.
The new partnership pricing comes via the auctioneer's collaboration with grading specialist SGC. SGC grades the condition of cards on a scale from 1 up to 10 Gem - representing a near-perfect card - or 10 Pristine, determined as being "virtually flawless" in its condition. PWCC also has partnerships with grading specialists Beckett and CGC Cards, which allow players to submit their freshly-pulled cards for grading and authentication in a single process.
PWCC allows players, fans and collectors to effectively open a booster pack - perhaps from this week's release of Disney Lorcana's Rise of the Floodborn or MTG's The Lost Caverns of Ixalan, for example - pull a sought-after card (a Lorcana Enchanted, maybe, or a Magic: The Gathering Mythic Rare) and then submit it to PWCC after filling in a short online form.
From there, PWCC sorts the rest, including determining exactly which card has been submitted, rather than requiring the owner to do the research themselves to work out a card's identity and value. Pricing remains consistent across all cards regardless of their market value.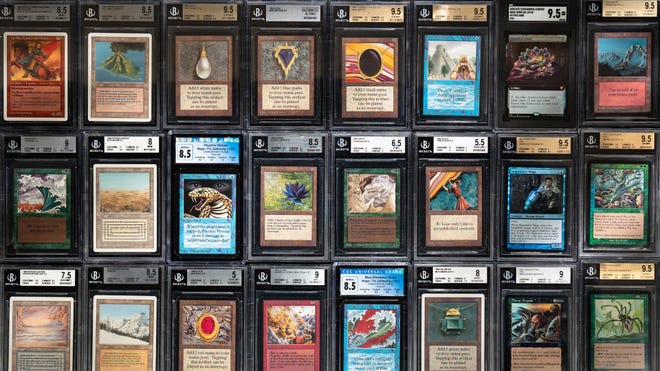 The partnership with SGC allows cards to be graded for a set fee as part of the one-stop process, costing only $9 for a card from a TCG such as Lorcana, Magic: The Gathering, Pokémon or Yu-Gi-Oh!. Sports and other non-sports cards cost $14 per card to grade. Beckett is priced at $25 per card and CGC Cards costs $12 per card, comparatively.
Once graded and stored in the PWCC Vault, the owner can choose whether to list their cards via PWCC's Weekly and Premier Auctions or Fixed Price Marketplace. Of course, they can also just keep them safely stored in the Vault, where they can view a high-resolution digital catalogue of owned cards via the PWCC app or website. The card only needs to be sent once to go from being pulled to being graded, authenticated, and sold or vaulted.