Disney Lorcana card rarity explained: How to identify the rarest Lorcana cards
Super Rare, Legendary or Enchanted? Work out how rare your Lorcana cards are with our guide.
Disney Lorcana's debut set The First Chapter includes over 200 cards for Disney fans and TCG collectors alike to discover in the game's booster packs. With shiny holographic variants and the rarest Enchanted Lorcana cards to find, we're here to explain every Lorcana card rarity and how you can identify how rare your Lorcana cards are.
Like other trading card games, such as Magic: The Gathering and Pokémon, Disney Lorcana cards can be found in randomised booster packs. In each of these packs, you're guaranteed to receive a set number of cards in each rarity - but some may be rarer than others, so knowing the differences between Lorcana rarities is important to understand what you have.
Disney Lorcana card rarity explained
If Lorcana's gorgeous artwork of Disney characters such as Mickey Mouse, Elsa and Tinker Bell wasn't enough of a draw, the chance to find the best Lorcana cards in a shiny holographic variant is certain to keep a lot of fans hunting through The First Chapter's selection of cards. On top of finding standard foil versions of cards, you might also chance upon Lorcana's incredibly rare Enchanted cards - special variants that feature borderless designs, brand new artwork and a holographic rainbow effect.
Below you'll find our guide to identifying Lorcana card rarities, knowing the pull rates in Lorcana booster packs and understanding the difference between all of Lorcana's rarities so you can spot the very rarest Lorcana cards for your collection. Good luck!
---
How to identify Disney Lorcana card rarity
There are six different card rarities in Disney Lorcana. You can identify what rarity your Lorcana card is by looking at the rarity symbol at the bottom of the card, in the centre of its border.
The rarity symbols in Disney Lorcana follow a logic where the more sides the shape has, the rarer the card is. The least Common rarity is depicted by a circle - with one side - while the very rarest Legendary and Enchanted Lorcana cards have five-sided pentagons and six-sided hexagons respectively.
One exception to note is Uncommon cards, which are represented by the rarity symbol of an open book - the logic being that an open book has two sides, or pages.
As well as the rarity symbol on the card, the rarity of a Lorcana card is also indicated by the colour of the icon. As cards get rarer, their symbols get more vivid and colourful. The most Common cards are represented by a grey circle, while rarer cards feature metallic bronze, silver and gold shapes, up to the bright rainbow icon used on Enchanted cards.
Disney Lorcana rarity symbols
Common, grey circle

Uncommon, white book

Rare, bronze triangle

Super Rare, silver square

Legendary, gold pentagon

Enchanted, rainbow hexagon
---
How many Lorcana cards are there in The First Chapter?
Officially, there are 204 cards in The First Chapter, Disney Lorcana's debut set. However, that only counts the number of unique cards with different names - in reality, there are a few more cards.
Each card in The First Chapter can appear in both its standard version and in a holographic foil variant, meaning that there are 408 different physical cards to collect if you're after a full set. Bear in mind that the standard and foil cards are identical except for their holographic finish, with no changes to their artwork, rarity or gameplay text.
On top of those standard and foil variants, there are also 12 Enchanted cards, which have a card number above 204. Unlike other holographic cards, these do feature unique borderless artwork, as well as a rainbow 'inkwash' foil finish that can only be found on Enchanted Lorcana cards or certain promo cards. Their names and gameplay text remain the same as the standard and holographic versions of the cards.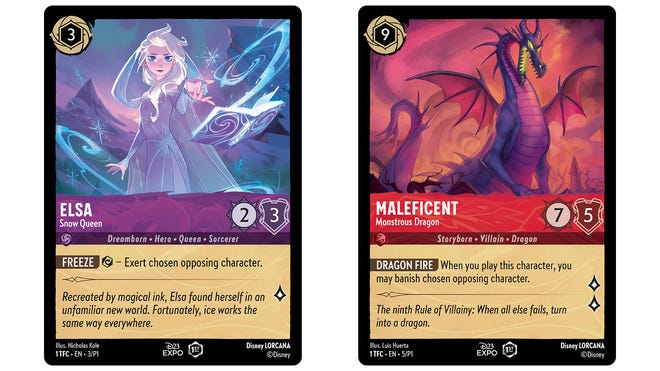 As well as the cards in The First Chapter, there have also been several promo cards released at events ahead of Disney Lorcana's release date. The first wave of promo cards can be identified by their set number P1 and a unique logo in place of their rarity icon, indicating which event the promo card was available at.
Disney Lorcana promo cards
These are all of the Disney Lorcana promo cards released so far, and where they were released:
Mickey Mouse, Musketeer (Gen Con 2023)
Goofy, Musketeer (Gamescom 2023)
Yzma, Alchemist (Lorcana League)
Mickey Mouse, Detective (Lorcana League)
HeiHei, Boat Snack (Lorcana League)
Mickey Mouse, Brave Little Tailor (D23 Expo 2022)
Captain Hook, Forceful Duelist (D23 Expo 2022)
Robin Hood, Unrivaled Archer (D23 Expo 2022)
Maleficent, Monstrous Dragon (D23 Expo 2022)
Cruella De Vil, Miserable As Usual (D23 Expo 2022)
Elsa, Snow Queen (D23 Expo 2022)
Stitch, Rock Star (D23 Expo 2022)
---
Disney Lorcana pull rates
Each Disney Lorcana booster pack includes 12 Lorcana cards pulled from The First Chapter's selection of 204 cards.
While the exact cards inside each booster pack are randomised, there are some guarantees when it comes to the number of cards you'll find in each rarity - also known as pull rates.
Every Lorcana booster pack will have the following pull rates:
Six Common cards
Three Uncommon cards
Two Rare, Super Rare or Legendary cards (non-foil)
One foil card of any rarity, from Common to Enchanted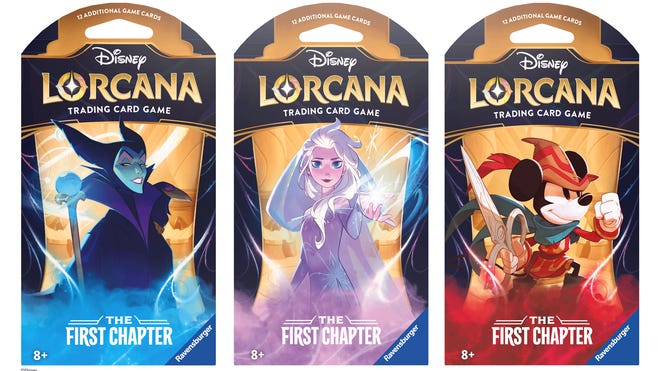 As well as the 12 playable cards, each Lorcana booster pack includes one art card. These are cards that aren't used in gameplay, featuring a QR code on one side that links to Lorcana's companion app and artwork on the other side.
In The First Chapter, the art cards display one of four different pieces of concept art for Mickey Mouse, Brave Little Tailor. When placed next to each other, like a jigsaw puzzle, the four pieces form the complete colour artwork by Nicholas Kole, surrounded by concept drawings for the card's artwork.
---
What are Enchanted cards in Disney Lorcana?
Enchanted cards are currently Disney Lorcana's rarest cards. Announced as the game's sixth rarity alongside the TCG's pre-release at Gen Con 2023, Enchanted cards are something special for Lorcana - even compared to other rare and holographic cards.
Enchanted Lorcana cards can be identified by the unique rainbow hexagon rarity symbol at the bottom of the card. Even more noticeable is the cards' unique borderless artwork, which extends outside of the standard art frame seen on other cards. Enchanted Lorcana cards are also finished with a rainbow-like holographic effect that the game calls an 'inkwash' foil.
Enchanted cards are the rarest Disney Lorcana cards we currently know of, with only a small chance of appearing in a booster pack. While we don't know the exact pull rate for Enchanted Lorcana cards yet, some fans have already suggested that they may only appear in roughly one in 100 booster packs or so.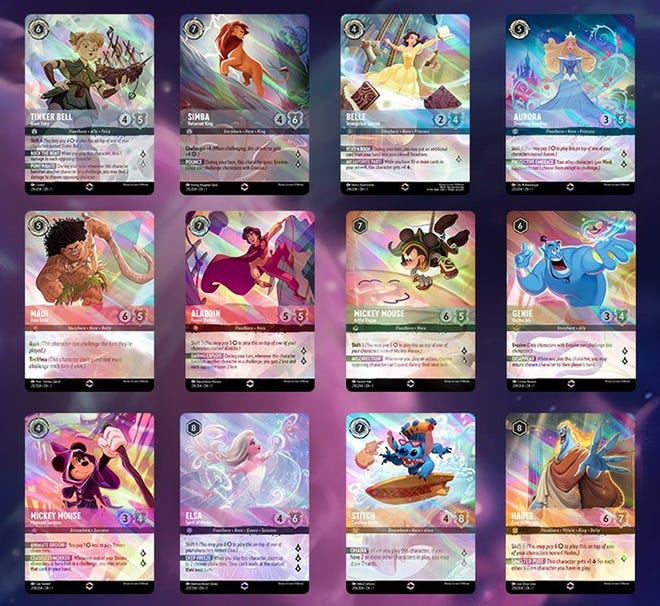 In The First Chapter, Enchanted cards can be identified by card numbers that go above 204, running from 205 to 216. In The First Chapter, there are two Enchanted cards in each of the six ink colours, with four Rare cards, two Super Rare cards and three Legendary cards also appearing in an Enchanted form.
While Enchanted cards have unique artwork and foil treatment, the card names, ability text and stats are the same as the original version of the card - that also means they count towards the maximum four copies you can have of any one card when you build a Lorcana deck.
Disney Lorcana Enchanted cards
Here are all 12 Enchanted Lorcana cards in The First Chapter, in order of their card number in the set from 205 to 216:
Hades, King of Olympus
Stitch, Carefree Surfer
Elsa, Spirit of Winter
Mickey Mouse, Wayward Sorcerer
Genie, On the Job
Mickey Mouse, Artful Rogue
Aladdin, Heroic Outlaw
Maui, Hero to All
Aurora, Dreaming Guardian
Belle, Strange But Special
Simba, Returned King
Tinker Bell, Giant Fairy
Disney Lorcana is planned for release in local game stores on August 18th, ahead of a wide release on September 1st. Disney Lorcana products are available on Zatu.