Disney Lorcana: Rise of the Floodborn - Everything we know so far about Lorcana's second set
Learn more about the new 204 cards, the Resist keyword and when you'll be able to buy them.
Disney Lorcana: Rise of the Floodborn is the second set released for the trading card game and will feature a collection of new cards for players to make decks with, as well as two new starter sets, a new gameplay mechanic – Resist – and movies that haven't previously been featured in the Disney TCG.
While The First Chapter had the job of introducing players to the Disney card game, Rise of the Floodborn will be focused on unveiling more lore about the strange beings known as the Floodborn. The Floodborn present alternate versions of classic Disney characters, some of which are almost exact opposites to their original counterparts as seen in the films – such as the card Gaston, Intellectual Powerhouse.
Lorcana: Rise of the Floodborn - Everything We Know
Even though The First Chapter featured some Floodborn cards - like Tinker Bell, Giant Fairy - Rise of the Floodborn will contain even more, alongside other types of Disney Lorcana cards. Fans of the likes of Princess and the Frog, Sword in the Stone, Winne the Pooh, Mulan, Raya and the Last Dragon, and Beauty and the Beast can expect to find some of their favourite characters and moments immortalised on cards from this next set.
In this guide we'll be running through everything we currently know about Disney Lorcana: Rise of the Floodborn including its release date, how many cards there'll be, which cards we know about and their new gameplay mechanics, amongst other important information.
Watch on YouTube
Wheels and Maddie discuss the upcoming Disney Lorcana: Rise of the Floodborn set.
---
Rise of the Floodborn release date
Disney Lorcana: Rise of the Floodborn will be released into local game stores on November 17th, with a full retail release – including online stores such as Amazon – set to start from December 1st.
---
How many cards are in Rise of the Floodborn?
There will be a total of 204 new cards in the Rise of the Floodborn set, all of which will be spread across Lorcana's six different ink types. Some of these cards will be foils, uncommons and enchanted rares – alternate versions of cards that are less commonly available – as well as promo cards available at conventions and other events.
---
Where to get Rise of the Floodborn?
From November 17th, you'll be able to get Rise of the Floodborn cards from local game stores. December 1st will see a wider retail release of the set at targer chain stores including Target in the US, Game and Argos in the UK, and online stores like Amazon.
Cards will be available in starter decks – pre-built decks each containing a set collection of 60 cards, including two foil cards – booster packs, which contain a random selection of 12 cards; and booster boxes, which feature 24 booster packs.
---
What are the Rise of the Floodborn starter decks?
There are two starter decks set to be released for the Disney Lorcana: Rise of the Floodborn set.
The first Rise of the Floodborn starter deck will feature cards within the Amethyst and Steel ink types, including Tiana, Celebrating Princess and Merlin, Shapeshifter.
The other Rise of the Floodborn starter deck will contain Amber and Sapphire ink cards, including Gaston, Intellectual Powerhouse and The Queen, Commanding Presence.
Each starter deck will contain 60 cards, two foil cards – which will be either one of the two previously mentioned pairs - some tokens and a booster pack.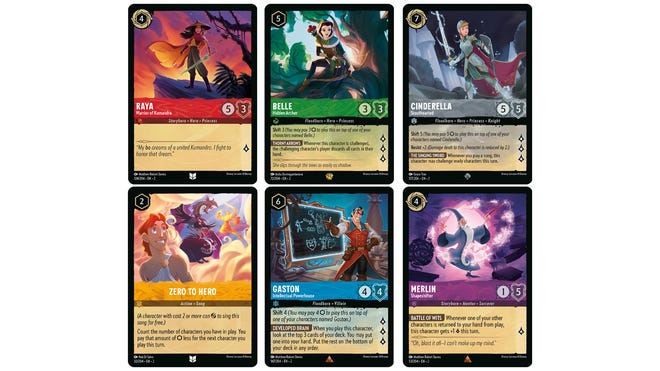 ---
Rise of the Floodborn new gameplay mechanics - Resist explained
Resist is a brand new gameplay mechanic due to be introduced in Rise of the Floodborn. The Resist keyword enables character cards to take less damage when challenged.
The amount of damage character cards can Resist will depend on the number listed next to the keyword – for example, 'Resist +1' will enable that character to avoid taking one damage whenever they're challenged. Some cards – such as Cogsworth, Grandfather Clock – can grant other characters the Resist keyword.
---
Rise of the Floodborn card list
Amber
Cobra Bubbles, Simple Educator
Grand Duke, Advisor to the King
Last Stand (Action)
Mickey Mouse, Friendly Face
Mulan, Reflecting
Rapunzel, Gifted Artist
The Queen, Commanding Presence
Zero to Hero (Action, Song)
World's Greatest Criminal Mind (Action, Song)
Dopey, Always Playful
Sneezy, Very Allergic
Sleepy, Nodding Off
Happy, Good Natured
Christopher Robin, Adventurer
Dragon Gem (Item)
Cinderella, Ballroom Sensation
Amethyst
Arthur, Wizard's Apprentice
Chip, Innocent Soul (name translated)
Confused Guides (Action) (name translated)
Elsa, Gloves Off
Gruesome and Grim (Action, Song)
Madam Mim, Fox
Madam Mim, Dragon
Madam Mim, Snake
Merlin, Crab
Merlin, Goat
Merlin, Rabbit
Merlin, Shapeshifter
Merlin, Squirrel
Pinocchio, Star Attraction
Pinocchio, Talkative Puppet
Winnie the Pooh, Hunny Wizard
I'm Stuck (Action)
The Sorcerer's Spellbook (Item)
Emerald
Beast, Relentless
Belle, Bookworm
Belle, Hidden Archer
Bibbidi Bobbidi Boo (Action, Song)
Pounce (Action)
Bucky, Squirrel Squeak Tutor
Daisy Duck, Secret Agent
Flynn Rider, Confident Vagabond
Hypnotize (Action)
Improvise (Action)
Lucifer, Sneaky Cat
Pack Tactics (Action)
Panic, Underworld Imp
Prince John, Greediest of Them All
Ring the Bell (Action) (name translated)
The Enchantress, Unexpected Judge (name translated)
Queen of Hearts, Quick-Tempered
Virana, Fang Chief
Donald Duck, Perfect Gentleman
Flynn Rider, His Own Biggest Fan
Donald Duck, Sleepwalker
Maddie teaches you how to play Disney lorcana.
Ruby
Raya, Warrior of Kumandra
Dinner Bell (Item)
Gaston, Arrogant Hunter
Countess Tremaine, Overbearing Matriarch (name translated)
Lumiere, Real Hothead (name translated)
Minnie Mouse, Wide-Eyed Diver
Minnie Mouse, Zipping Around
Mulan, Soldier in Training
Scar, Vicious Cheater
Tigger, One of a Kind
The Sword in the Stone (Item) (name translated)
Raya, Headstrong.
Sapphire
Basil, Great Mouse Detective
Basil, Of Baker Street
Basil, Perceptive Investigator
Cogsworth, Grandfather Clock
Cogsworth, Talking Clock
Cruella De Ville, Cruising Collector (name translated)
Four Dozen Eggs (Action, Song)
Gaston, Intellectual Powerhouse
Grand Pabbie, The Oldest and The Wisest (name translated)
Gumbo Pot (Item)
Fang Crossbow (Item)
Mrs Judson, Housekeeper (name translated)
Prince Charming, Heir to the Throne
Sisu, Divine Water Dragon
Shere Khan, Menacing Predator
Judy Hopps, Optimistic Officer
Steel
Cinderella, Knight in Training
Cinderella, Stouthearted
Donald Duck, Deep-Sea Diver
Eli La Bouff, Big Daddy
Goofy, Knight for A Day
Li Shang, Archery Instructor
Mouse Armour (Item)
Prince Naveem, Innocent Prince (name translated)
Robin Hood, Capable Fighter
Tiana, Celebrating Princess
The Queen of Hearts, Capricious Monarch (name translated)
Jafar, Royal Vizier
Jafar, Dreadnought
Chief Bogo, Respected Officer
---
What is Lorcana's Disney100 set?
Lorcana's Disney100 set is a special collection of cards released to celebrate the 100th anniversary of the movie company. Disney100 will contain six cards featuring alternate artwork, a satin holographic finish, a stamp of the artist's signature and a Disney100-themed frame design around the edge.
The Lorcana cards included within the Disney100 collection are from both The First Chapter and Rise of the Floodborn sets. It's confirmed that the featured cards are Genie, Powers Unleashed; Stitch, Abomination; Maleficent, Uninvited; Maui, Demigod; Mickey Mouse, Friendly Face; and Elsa, Gloves Off.
The Disney100 collection will be released alongside Rise of the Floodborn in local game stores on November 17th and to wider retail on December 1st.