Star Wars: Destiny is coming to an end next month
Destiny fulfilled.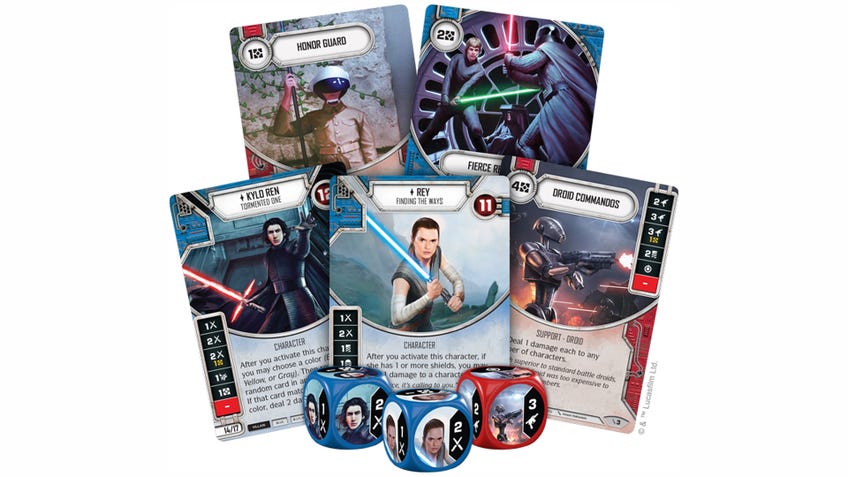 The Star Wars: Destiny saga is coming to an end as publisher Fantasy Flight Games announced it would releasing the final booster set for the collectible card and dice game this February.
Launched in 2016, Star Wars: Destiny became the latest collectible card game based on the sci-fi movie franchise after Magic: The Gathering creator Richard Garfield's Star Wars: The Trading Card Game was put on indefinite hold by publisher Wizards of the Coast back in 2005.
Star Wars: Destiny is a two-player card game wherein participants can use pre-built or custom-made decks using the various starter sets, booster packs and card kits - which contain prize cards designed to be given out at fan hosted tournaments - released over the last three years. Featuring iconic characters from the original trilogy as well as some newer faces from the prequels and more recent sequels that concluded last year with Episode IX: The Rise of Skywalker, Star Wars: Destiny had players rolling dice alongside playing cards to defeat their opponent.
As well as the Covert Missions booster set, Fantasy Flight Games will also be releasing a final card kit called Echoes of Destiny to coincide with the last Star Wars: Destiny World Championship, which will be taking place from 1st to 3rd May 2020.
On the company's blog, lead developer Jeremy Zwrin provided some parting words on their experiences of helping to support Star Wars: Destiny but did not mention how this would affect the publisher's other Star Wars board games.
Last year, Fantasy Flight studio head Andrew Navaro announced that long-running dungeon-crawler Star Wars: Imperial Assault had reached its 'conclusion' after more than 60 expansions. Navaro added that Fantasy Flight would be more "thoughtful" regarding its plans for expansions in the future, following criticism of the company for "[riding] the horse until it collapses" with a large number of expansions released in a short timeframe.
Another of Fantasy Flight's games, living card game Android: Netrunner, was brought to an end in the autumn of 2018 after six years of releases and tournaments. Despite having a popular following, Fantasy Flight announced that it would no longer be selling any Netrunner products or hosting any more Netrunner events.
There are still expansions planned for Star Wars miniatures games Legion, Armada and X-Wing for this year, however, Fantasy Flight Games currently have no announced Star Wars movie board games in the works.