Keyforge and Pandemic books are coming next year
A novel concept.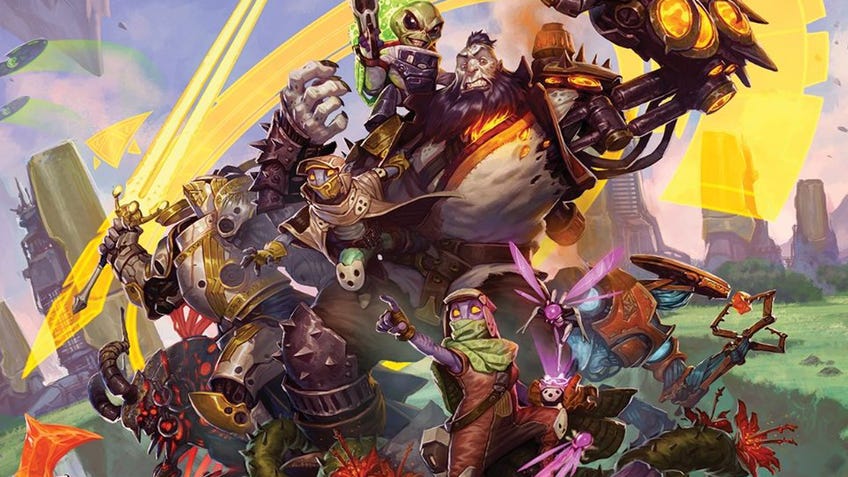 repare your shelves for the arrival of a new series of books based on the worlds of Keyforge, Pandemic and Legend of the Five Rings, to be released next year.
Several novels based on select properties from Asmodee - the parent company of several publishers including Fantasy Flight, Z-Man and Catan Studios - are being published by the company's fiction label, Aconyte, throughout the summer of 2020, with the first being yet another entry to the Arkham Horror Files universe of books, entitled Arkham Horror: Wrath of N'Kai.
May 2020 will also see the release of the first book based on the living card game, Legend of the Five Rings: The Card Game. Set in the pseudo-feudal Japanese empire of Rokugan, Legend of the Five Rings: Curse of Honor will follow the adventures of one of the game's titular factions, the Crab clan.
Unique card game, Keyforge, also get its first novel entitled Keyforge: Tales from the Crucible in June 2020. The book will serve as an introduction to the game's world, which until now has remained somewhat mysterious.
The co-op board game series Pandemic will also receive its first book in June 2020, called Pandemic: Patient Zero, which will focus the efforts of fictional epidemiologist Bodhi Patel as she attempts to manage an outbreak of disease in Brazil.
Descent: Journeys in the Dark, Fantasy Flight's seminal dungeon-crawling series, will be the last of its properties to receive the novelisation treatment next summer. Descent: Journeys in the Dark: The Doom of Fallowhearth, will feature a story following the recovery of The Baroness of Forthyn's daughter from the deepest part of the Blind Muir Forest.
Aconyte's also announced that the titles Arkham Horror: The Last Ritual and Legend of the Five Rings: Poison River will both be coming in August 2020.
With the announcement of Asmodee's newest book branch, we're seeing yet more tabletop properties get their own literary series', joining the ranks of the already enormous Dungeons & Dragons universe of novels and Games Workshop's substantial Black Library of Warhammer and Warhammer 40,000 books.
Whether the Aconyte label will produce quite as many books as the above examples remains to be seen. For now, you can expect these books in paperback, ebook and audiobook form come next year.
In the meantime, you can learn exactly why Keyforge is such a great card game, from the mouth of our very own Michael Wheelan in the video below.