Board Game Arena has been bought by Catan, Pandemic and Ticket to Ride maker Asmodee
Following the website's boom in popularity last year.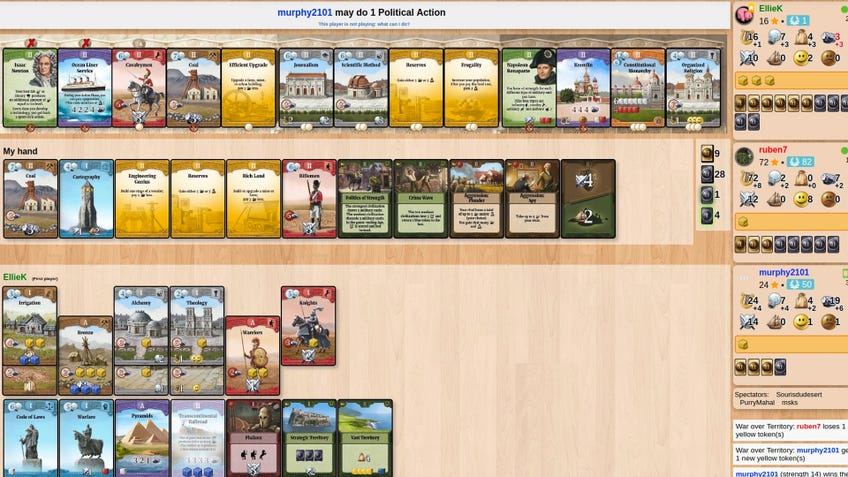 Asmodee, the tabletop giant that owns the studios behind board games including Catan, Pandemic, Ticket to Ride, X-Wing and Arkham Horror, has acquired Board Game Arena. The deal follows a hugely successful 2020 for the virtual gaming platform.
Board Game Arena is a website founded in 2010 that hosts more than 260 board games in a digitised form, allowing players to play the tabletop titles in a browser. Many of the games include scripted features that automate parts of the gameplay such as scoring and rule-checking. In comparison to rivals such as Tabletopia and Tabletop Simulator, Board Game Arena typically displays games in a simplified 2D interface, rather than trying to simulate a full 3D environment with physics.
Asmodee stated that Board Game Arena will continue to operate as an independent entity, and confirmed that board games from publishers not owned by Asmodee - a list that continues to shrink - would continue to be hosted and offered to users for free. Pricing for the website's paid subscription plans, which provide access to a library of premium games and additional features such as video and voice chat for a monthly or annual fee, will remain unchanged.
The announcement added that "key brands from Asmodee" would be made available on Board Game Arena "ASAP". Other games created by Asmodee studios, including 7 Wonders, Carcassonne and Terra Mystica, are already available on Board Game Arena.
Asmodee's head of strategy Thomas Koegler said that bluffing game Skull and gem-collecting card game Splendor would launch on Board Game Arena "in the coming weeks", and would mark "the first of a long list of Asmodee releases on the platform".
There are more than five million registered Board Game Arena members, with the number of "online players and communities" growing by 600% during 2020, according to the website.
Board Game Arena said the acquisition would help "support its growth and pursue its development", while Asmodee said "this natural move will allow [the publisher] to speed up the availability of its key titles on the platform".
Edit 12/2/21: Asmodee has told Dicebreaker that Pandemic, Catan and Ticket to Ride are not currently confirmed for release on Board Game Arena, with their mention in the original press release said to instead be "an example of the types of games Asmodee can bring to the platform". This story has been updated accordingly.