The designer of Dice Hospital is creating two board games for newly founded studio, Bright Eye Games
Coraquest also coming from new company.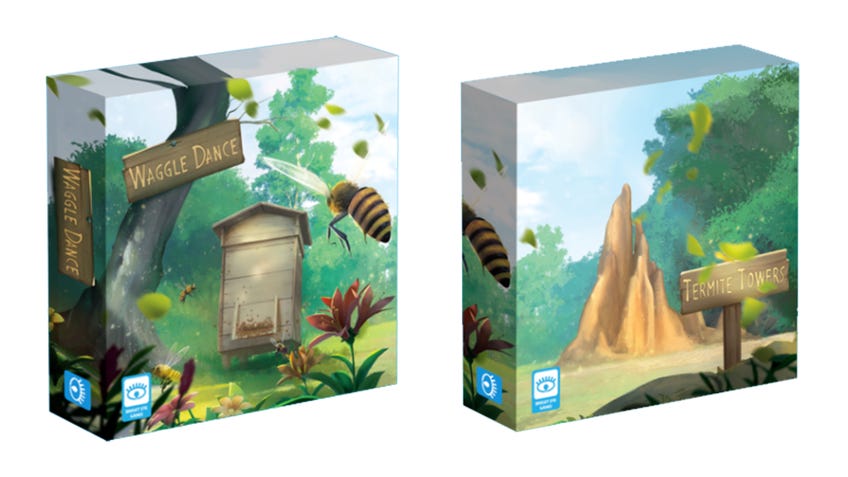 Bright Eye Games, a brand new tabletop gaming studio has announced that its first couple of titles will be created by Dice Hospital designer, Mike Nudd.
Founded by Mark Cooke, Claire Kelton and Will Townshend, Bright Eye Games is a newly formed tabletop publisher that will focus on releasing titles providing accessible experiences suitable for both older and younger audiences.
The first of these upcoming games will be Waggle Dance, a title created by Nudd that will support from one to four players as they attempt to become the best bees possible. A worker-placement game, Waggle Dance will see players attempting to build a beehive, collect nectar and eventually create enough honey to satisfy their queen bee. Successful bee behaviour will enable players to excel and achieve victory, leaving their opponents behind.
Nudd is also the designer behind Termite Towers, another newly announced board game coming from Bright Eye Games, this time transforming players into a mound of termites instead of bees. Described as providing more "strategic gameplay" than Waggle Dance, Termite Towers challenges one to four players to take on the mantle of efficient builder termites who must complete their second mound before their insect rivals. The first player to gather enough resources and build their mound is named the winner of Termite Towers.
Bright Eye Games also announced that it would be publishing a version of Coraquest, a board game for kids that was designed by a father and daughter duo. Coraquest is a co-op game set in a fantasy inspired dungeon that players must traverse together to search for treasure and to rescue a gnome called Kevin, before a horde of scary spiders arrive. Beginning as a homework project for Dan Hughes' daughter - Cora - the board game eventually became a fully realised product. The version set to be released by Bright Eye Games will contain contributions from creators such as Paula Deming - from Things Get Dicey - and Watch it Played's Matthew Jude.
After being successfully funded on Kickstarter in February, Coraquest is set to be published by Bright Eye Games in January 2022. Waggle Dance and Termite Towers will both be released sometime this September.
Edit: This article previously stated that Mike Cooke co-founded Bright Eye Games and Jerry Hawthorne contributed to Coraquest. Cooke's name is Mark Cooke and Hawthorne produced print-and-play characters and items for Coraquest but did not contribute to the game offered in the Kickstarter. This has been corrected.