Scooby-Doo, Looney Tunes and Teen Titans GO! star in cartoon collection of board games from Blood Rage studio
Animation sensation.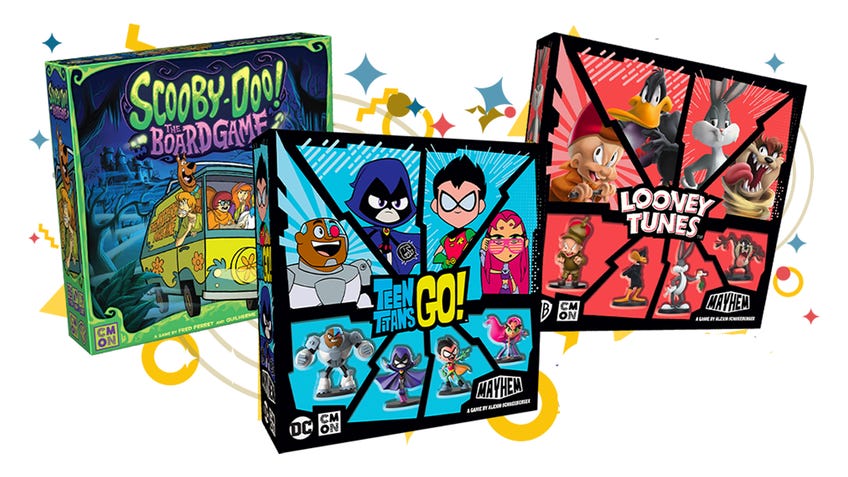 Don Robin's cape, drop an anvil on Daffy Duck or hop into the Mystery Machine with an upcoming collection of animation-themed board games from CMON, the studio behind Blood Rage. Dubbed CMON Presents: The Animation Collection, the Kickstarter launch will consist of three games based on the Teen Titans GO!, Looney Tunes and Scooby-Doo television series.
Scooby-Doo: The Board Game was revealed earlier this year and will see one to five players taking on the roles of Scooby and the gang as they investigate a mystery at a local town. The co-op game will feature all the major characters from the beloved animated series - including Fred, Velma, Daphne, Shaggy and the cowardly dog himself, Scooby-Doo - as they travel across the various locations on the map in order to set up traps to catch the villain, before all the townsfolk are scared away from their homes.
Newly announced is Teen Titans GO! Mayhem, an upcoming board game based on the animated show featuring classic DC Comics superheroes such as Robin, Cyborg, Starfire and Raven as they encounter various comedic adventures. The board game sees players becoming the different characters from the Teen Titans as they bicker over various disputes, such as obtaining the very last slice of pizza or getting the best spot on the couch. Teen Titans GO! Mayhem uses a newly-made ruleset called Mayhem that enables players to directly compete with one another.
Also using the Mayhem ruleset is the final game in The Animation Collection, Looney Tunes Mayhem, has players embodying classic cartoon characters like Bugs Bunny, Daffy Duck, Elmer Fudd and Taz. In time-honoured Looney Tunes fashion, the game sees players ruthlessly pummeling each other's characters using various Acme weapons and explosives.
It has not been confirmed whether Teen Titans GO! Mayhem and Looney Tunes Mayhem will be compatible with one another, despite using the same system of rules.
Yay, finally announced!

This is one has been in the works for ... wow, 2 years? An exciting series with an excellent team behind it.https://t.co/gxlUlB2OMM

— Eric Lang (@eric_lang) November 13, 2020
Besides Blood Rage, CMON is known for releasing zombie-themed board game Zombicide - alongside its various sequels and spin-offs - and dungeon adventuring game Massive Darkness. CMON also published last year's Wacky Races: The Board Game, based on the classic cartoon series from the 1960s. Eric Lang, the creator behind Blood Rage, admitted in a tweet that they had worked on creating the Mayhem system used by both Teen Titans GO! Mayhem and Looney Tunes Mayhem.
The Kickstarter campaign for The Animation Collection has not yet received a launch date, with CMON stating that backers will be able to choose which of the three games to pledge towards.