We've got some great board games to give away, and we're giving them to you!
Post a comment on the Dicebreaker website to be in with a chance.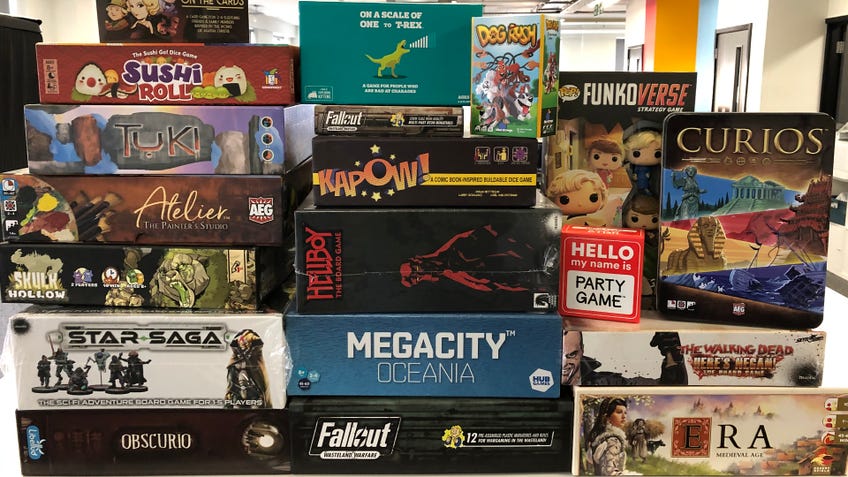 We go through a lot of board games here at Dicebreaker. Whether it's for the playthroughs, reviews and live videos on our YouTube channel or the reviews, features and other articles on this very website, we've amassed a pretty sizeable collection of great board games.
The thing is, we don't need all these board games. We put out a lot of videos and articles, and trying to bring you the latest news and information about the hottest releases means we often move on from a game - even one we love - and don't get the chance to come back to it.
Rather than leave a bunch of brilliant games gathering dust in the Dicebreaker HQ Kallax, we'd rather get them out into the world to be played, loved and shared with even more people. That's where you come in!
We've got a stack of board games to give away as part of the celebration of our website launching, and we'd like to give them to you. For free. For just being you.
All you need to do is post a comment on the Dicebreaker website by Wednesday December 11th. It doesn't need to be on this article - anywhere on the site counts. We'll then pick out some comments at random, get in touch with you and ask you which game from the collection you'd like.
We can post the games out to anywhere in the UK, Europe and North America, so comment away to your heart's content. Multiple comments on different articles will give you extra entries, but please don't spam - otherwise you might end up missing out on the chance.
If you want an idea of what's up for grabs, we've snapped a pic of some of the games above. If you've been following the YouTube channel and had a browse around the website, you probably have a good idea of what've ben playing recently.
We've got even more exciting giveaways planned as part of the Dicebreaker website launching, so keep an eye on the site for more chances to grab some tabletop goodies!