Rebel Moon tabletop RPG studio sues Netflix over cancelled adaptation of Zack Snyder movie
Publisher Evil Genius says the streaming giant unfairly pulled the release of its finished Rebel Moon RPG.
A tabletop RPG publisher is suing streaming giant Netflix over its cancelled adaptation of upcoming Zack Snyder movie Rebel Moon.
Evil Genius Games' lawsuit says that the studio, which has previously adapted films including Kong: Skull Island, Total Recall and Pacific Rim for its Dungeons & Dragons 5E-compatible RPG Everyday Heroes, began working with Netflix on a Rebel Moon TRPG earlier this year.
Evil Genius says that Snyder's ambitious plans for his Star Wars-esque sci-fi epic included expanding its universe via a tabletop RPG from the off, with the Justice League, 300 and Watchmen film director "expressly request[ing] that there be a Rebel Moon based TTRPG" if the project was signed by Netflix.
"To Mr. Snyder, a TTRPG was critical to the development of the entire Rebel Moon universe since it would provide content for future Rebel Moon derivatives," the lawsuit reads.
Evil Genius says it then put together a pitch for a Rebel Moon TRPG - including a playable demo and potential storylines - that it claims 'blew Netflix and Snyder away' and secured it the rights to work on the official adaptation.
The RPG maker claims that when it started working with Netflix in early 2023, Rebel Moon consisted of the "movie script, some rough ideas for the Rebel Moon universe, and some cursory graphical assets", but little else, with "background information vital to the story as a whole and to the world" - including descriptions of alien races, planets and key characters, as well as a "clear storyline for how the Rebel Moon universe originated" - all missing.
Evil Genius claims that it "supplied all the missing pieces and created a cohesive backstory for the entire Rebel Moon franchise" in the form of a "World Bible". The 228-page document was originally created to be an in-house reference for the tabletop RPG, but apparently impressed Snyder and Netflix execs to the point that Snyder "indicated" that "significant elements" of the bible would be worked into the director's multi-film 'Snyderverse', as well as other Rebel Moon works such as graphic novels, animated series and a novel.
"The one thing that I'm having a really good time with - and I don't really know if I'm supposed to talk about it - is this RPG that we're doing that is just literally insane, and so immersive and so intense and so huge," Snyder said on the Nerd Queens podcast in March. "I've always wanted to do an RPG - like, 'Well, we could do it at this scale, or we could do it at ridiculous scale.' And I was like, 'Ridiculous scale is clearly the scale that we should be doing it.'"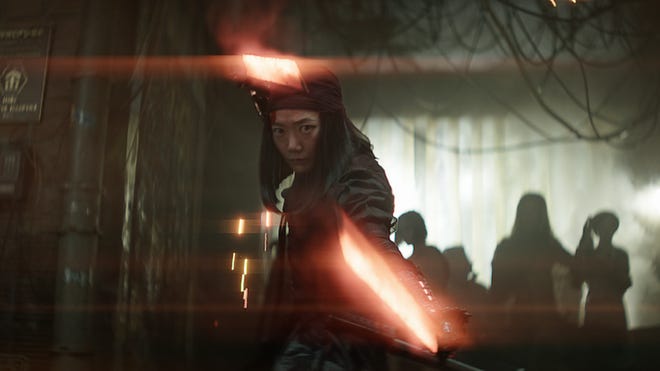 The RPG itself saw the creation of a 430-page Player's Guide and 337-page Game Master's Guide, with Evil Genius claiming it dropped all of its other projects to ensure the game was finished in time for Rebel Moon's planned release date on December 22nd. According to the studio, the tabletop RPG was in the final stages of editing by May.
Mere weeks later, however, the seemingly harmonious partnership fell apart as Netflix accused Evil Genius of breaching its confidentiality agreement and "Netflix's trust", terminating the partnership and effectively cancelling the release of the Rebel Moon RPG.
The accusation stemmed from meetings between Evil Genius and retailers at tabletop trade show GAMA in April, where artwork from the Rebel Moon RPG was shown to retailers and distributors in - according to Evil Genius - efforts to create some "industry buzz" about the upcoming RPG and set it up for success upon release.
Netflix claimed that the artwork was confidential and unapproved, therefore breaching the confidentiality agreement between the streaming platform and Evil Genius. Evil Genius, meanwhile, claims in its lawsuit that Netflix "never voiced any issues whatsoever" with the artwork being shown, and says that two Netflix employees were also present at GAMA and presented the artwork - which included the game's cover artwork and sample characters - to more than 100 retailers.
Nevertheless, Netflix halted work on the tabletop RPG as a result, stopping the release of Evil Genius' Rebel Moon game. In addition, Evil Genius alleges that Netflix sent a follow-up letter in June attempting to "hijack" the World Bible created for the RPG by claiming it "belongs solely and exclusively to Netflix".
"Based on this letter, it became clear that Netflix was simply using the alleged breach and termination to hijack Plaintiff's intellectual property and prevent Plaintiff from releasing the game," the lawsuit states.
The lawsuit adds the claim that Netflix offered Evil Genius $50,000 "to basically go away, forgive Netflix for its pretextual hijacking of the project, and hand over the game to them", with 'amicable' attempts to resolve the disagreement failing.
The lawsuit looks to sue Netflix for multiple claims including alleged breach of contract, breach of the implied covenant of good faith and fair dealing, and unjust enrichment. Evil Genius' demands include compensation for the "very substantial" profits the publisher expected from the release of the tabletop RPG, based on the performance of the Rebel Moon film.
Dicebreaker reached out to Netflix for comment but did not hear back before publication.