Yellow & Yangtze publisher cancels Knizia reprints, including Medici Reformation
Grail Games will not pick up designer's titles from 'Euro Classics' line dropped by Z-Man.
Reprints of several board games from Reiner Knizia - the creator of Lost Cities - have been discontinued by Grail Games, with the publisher's upcoming Medici Reformation project being outright cancelled.
The decision was announced in a blog post from Grail Games founder David Harding, in which they addressed the studio's history of releasing new editions and reprints of Knizia's most beloved games - including Tigris & Euphrates sequel Yellow & Yangtze, Medici: The Card Game and train game Stephenson's Rocket - only for those titles to not financially perform as well as they hoped.
"I am immensely proud of Grail's editions of Yellow & Yangtze, Medici and Stephenson's Rocket, but these reprints and revisions, while great at getting BGGers to notice what one is doing, just… haven't sold well," admitted Harding.
In response to the lackluster sales, Harding confirmed that Grail would no longer be printing the Knizia titles it had already released - including this year's Whale Riders - before advising players to "grab those leftover copies while you can", as they will leave the publisher's catalogue by the end of 2021.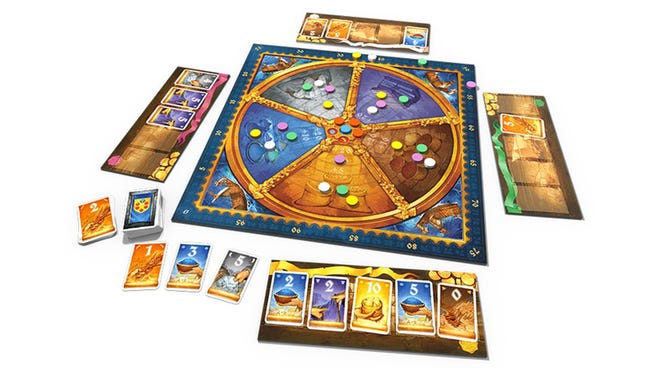 Harding also revealed that the Medici Reformation project - a remake of the popular auction game which was announced late last year - had been cancelled, despite being "almost ready to go".
The move follows an announcement made by Pandemic publisher Z-Man Games last month that its Euro Classics series - which had so far only featured board games designed by Knizia, such as Tigris & Euphrates and Taj Mahal - would be discontinued. Explaining the reasoning behind the decision, Z-Man studio head Steve Kimball, in a similar fashion to Harding, highlighted the influence of sites such as BoardGameGeek and the difficulty of getting noticed by a more vocal audience.
"Nowadays there is so much noise that it is nearly impossible to ensure that your wares are seen, heard and given a fair chance," Kimball commented.
In the post on Grail Games' website, Harding referenced the cancellation of the Euro Classics line, confirming that the studio would not be printing any of the Knizia board games that had been recently "let go" by Asmodee, the parent company of Z-Man Games.
Following the cancellation of the Medici Reformation project and discontinuation of the Knizia reprints, Grail Games will be focusing on releasing titles like Hibachi - which was successfully funded on Kickstarter last December - and the latest edition of Fjords, the title co-created by Phil Walker-Harding and Beth Sobel that saw a successful Kickstarter campaign earlier this month. Harding also mentioned other upcoming Grail titles in the blog, including Silicon Valley - created by Tiny Epic Galaxy designer Scott Almes - The Gardens and Chuhan.
Finally, Harding hinted that Grail would soon be announcing a new project that would revolve around "helping another small publisher's beloved titles to carry on". It has not been confirmed which titles or publisher this statement refers to.