Get Undaunted and Frostgrave releases at a discount
Alongside Crescent Moon.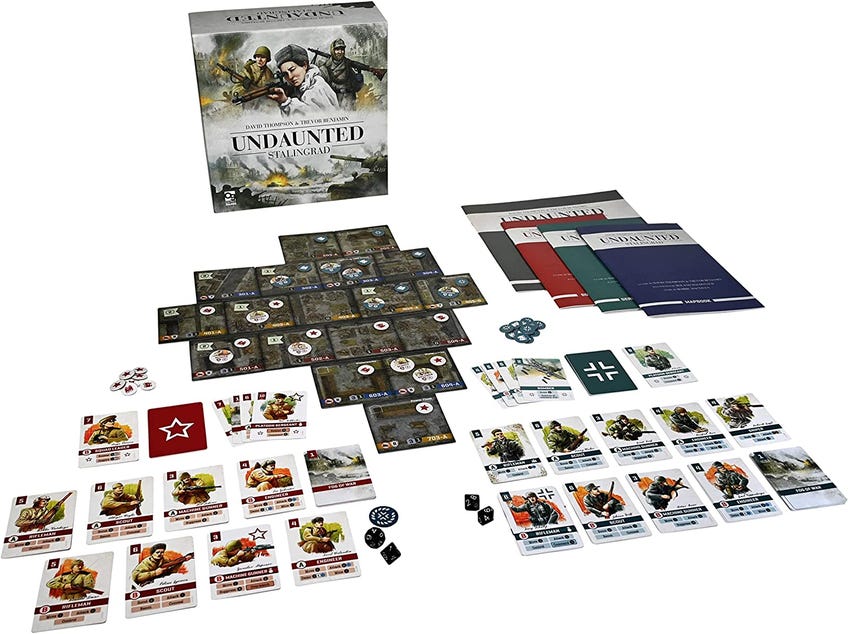 Releases in both the Undaunted and Frostgrave series are currently available at a discount.
Osprey Games – a studio that's known for publishing variety of board games, miniatures games and tabletop roleplaying games – is currently hosting a sale on its online store. The sale features releases from across the company's various series, including board games, miniatures and RPGs.
Available for £63 ($76) - which is 30% off its usual asking price – is Undaunted: Stalingrad, the latest entry in the World War II board game series. Released last year, and featured in Dicebreaker's nominees for Best Board Game in the 2022 Tabletop Awards, Stalingrad is a two-player game in which players command troops from either the Russian or German side of the historical conflict.
Watch on YouTube
Dicebreaker's Tabletop Awards 2022 ceremony at PAX Unplugged.
Depending on which side they're controlling, players will have access to different troop types and styles of play. During the game, players will gradually edit and add to their decks – gaining new cards that they can then use to make their units move and attack. Taking place over an entire campaign of scenarios, Stalingrad challenges players to complete various objectives in each mission: with the outcome determining the course of the rest of the campaign.
Another title featured in the Osprey Games sale is Crescent Moon, which was also featured in Dicebreaker's Tabletop Awards 2022 nominees for Best Board Game. Discounted to £45.50 ($55), also 30% off its usual asking price, Crescent Moon is a board game for up to five players that challenges people by having them face-off against each other as unique factions. As an asymmetric board game, Crescent Moon sees players learning their own individual gameplay rules and methods of gaining victory points. Over the course of several rounds, players take turns to move their units, place structures, initiate battles, influence areas and trade with one another.
As well as board games, the Osprey Games sale includes several miniatures games releases, such as books for both Frostgrave and Stargrave. Whilst Frostgrave is the studio's fantasy miniatures title, Stargrave takes place in a science fiction universe. Both miniatures games have players searching for treasures across a map made from terrian in a variety of different scenarios. Unlike many other miniatures titles, players aren't required to use any particular types of terrain or miniatures with either Frostgrave or Stargrave.
Wheels explains why you should play Frostgrave.
The supplement Frostgrave: Fireheart – which is discount to £14 ($17) from £20 ($24) - provides players with a collection of new tools and constructs, or automatons, to build and use during their playthroughs of the game. Whereas Stargrave: Hope Eternal, currently available for £14 ($17) instead of £20 ($24), features an entire campaign for players to experience within the sci-fi world.
On top of the above, several tabletop RPGs are currently discounted in the Osprey Games sale. The entire rulebook for Hard City: Noir Roleplaying is available for £12.59 ($15.30) - instead of the usual £18 ($22) - enabling players to begin their gritty adventures in a seedy city that never sleeps. Whilst the neon-noir roleplaying game, Crescendo of Violence, can be acquired for 30% off its usual price at £17.50 ($21.37), and sees players exploring a dystopian future version of New York.
The Osprey Games sale will run until February 28th, with all titles included being discounted by 30%.