This year's Essen Spiel was the biggest in the Germany board game convention's 40-year history, say organisers
Almost 200,000 people flocked to the world's largest tabletop event.
Essen Spiel 2023, marking the 40th anniversary of the German board game fair, cemented its place as the world's foremost tabletop event with what its organisers claim was the convention's biggest year to date.
193,000 visitors visited the board game convention held in the eponymous German city from last Thursday, October 5th to Sunday 8th. While that visitor figure is down on 2019's pre-pandemic record attendance of 209,000, organiser Friedhelm Merz Verlag says that combined with the event's increased hall space of 62,500 square metres and the more than 1,700 "novelties" exhibited - predominantly board games - it believes that "the biggest Spiel ever took place" in 2023.
By way of comparison, US convention Gen Con reported record attendance over the summer, with more than 70,000 visitors. The UK's largest dedicated tabletop show, UK Games Expo, also set a new attendance record this year with almost 53,000 visitors.
This year's Spiel was organised by a fresh team at Merz Verlag, including new managing director Carol Rapp, who took over in November and led a number of changes to the storied game fair.
"We had hoped that more people would come to Spiel than last year, but we didn't expect this number," said Rapp. "We changed a lot of things this year to make Spiel even more accessible and appealing, and the number of visitors on all days, as well as the general feedback, shows us that we've done it."
Among the shake-ups was a rearrangement of the halls of Spiel's Messe Essen venue, with the show's more than 900 exhibitors newly sorted into halls based on their focus on family games, "expert" games, and RPGs, trading card games and miniatures.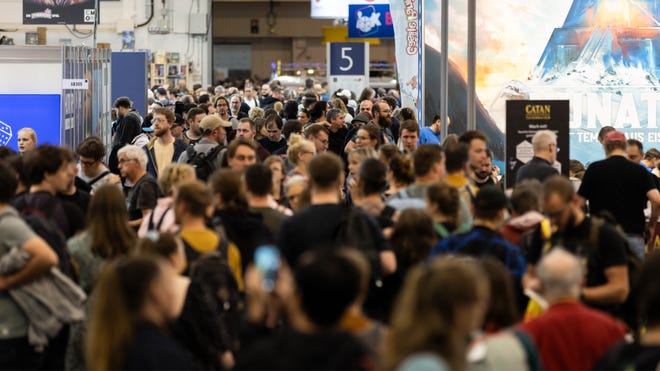 Ahead of this year's convention, Essen Spiel's organisers faced criticism from tabletop creators and fans over its decision to use AI-generated artwork for its marketing materials, including the main banners featured at the Messe Essen and across the German city.
The decision to use AI art came despite the show's reveal of a new mascot created by Adventures of Robin Hood and Legends of Andor designer-illustrator Michael Menzel, who was subsequently named Meeps in a public vote. While Meeps appeared at the show on merchandise and occasional marketing, as well as being offered to visitors as a free miniature to paint, the AI-created artwork was far more prevalent across the show and the surrounding city. (Merz Verlang says that 1,200 Meeps models were picked up during the show.)
"The protection of artists' rights has priority for us," Merz Verlag said in response to the backlash, later adding that "the marketing campaign [with AI artwork] has been created way before we had the idea to create a mascot. The idea of Meeps had nothing to do with the marketing campaign and vice versa".