Gen Con 2023 breaks event attendance record with over 70,000 visitors
In time for its 20th anniversary.
Gen Con 2023, which took place just this weekend, has broken the event's attendance record.
Taking place in Indianapolis, Indiana, USA, Gen Con is a four-day event that sees various tabletop publishers provide playable demos of their upcoming games and enable players to purchase or pre-order copies for themselves. Various announcements are also often made during Gen Con, making it one of the most important events of the tabletop industry calendar. This year's event was held from August 3rd to 5th, with publishers such as Magic: The Gathering and Dungeons & Dragons studio Wizards of the Coast setting up shop at the convention.
The record of the highest numbers of attendees at past Gen Con events was originally set by 2019's event, with a total of around 70,000 visitors. After the effects of the Covid-19 pandemic saw Gen Con not being held in 2020, the attendance numbers for the event were around 35,000 in 2021 and 50,000 in 2022. According to Gen Con's PR, this year's event saw the convention's attendance record being broken by a total of over 70,000 people coming to the tabletop gaming gathering.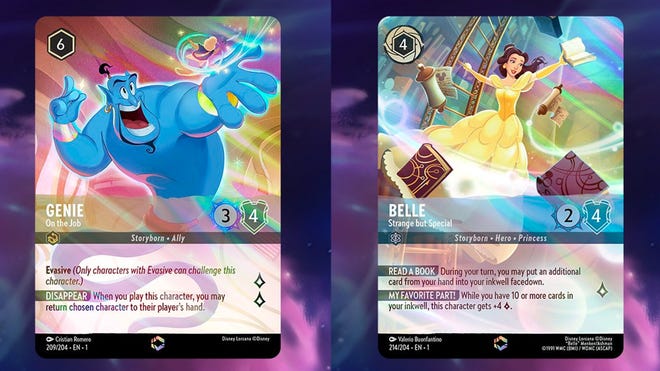 This year's convention marked the 20th anniversary of the event, with the organisers confirming that it had extended its contract with Indianapolis to hold future conventions through to 2030. According to Gen Con PR, the attendees and convention partners raised nearly $35,000 (£27,271) for Indy Reads – a non-profit organisation that supports literacy in and around Indiana - and Game Pathways, a charity that helps young people get into the tabletop gaming industry.
Besides the lifting of Covid-19 restrictions seeing the steady rise in Gen Con attendance since 2020, another potential reason for the increase in visitors to this year's convention was the launch of Disney Lorcana, a trading card game published by Ravensburger and featuring original artwork of various recognisable characters from across Disney animated history.
Maddie and Liv play Disney Lorcana together.
The limited release of Disney Lorcana at Gen Con saw enormous queues of people looking to purchase cards snaking through the Indiana Convention Centre from the very first day of the event. One attendee told Dicebreaker that they had been waiting over 24 hours in order to be at the front of the line when the event opened. In anticipation of long queues, Ravensburger organised a line with Gen Con staff to begin at 6pm on Wednesday evening ahead of the Disney Lorcana store opening at 10am on the Thursday morning.
Dicebreaker's coverage of Gen Con 2023 announcements, news, demos and releases will continue throughout this week.