Essen Spiel 2024 dates will see the world's largest board game event return next October
Remains in slot at beginning of the month.
As this year's Essen Spiel comes to an end, the German board game convention - the largest such tabletop event in the world - has confirmed the dates for Essen Spiel 2024.
Essen Spiel's 2024 dates will see the event hold its earlier October slot, running from Thursday, October 3rd 2024 to Sunday 6th.
The weekend at the beginning of October aligns with both this year's show and 2022's, which shifted the event up a few weeks from its previous timing later in the month.
Organiser Friedhelm Merz Verlag recently announced that it believes this year's Essen Spiel was the biggest in the storied event's 40-year history. While attendance didn't quite exceed its record peak of 2019, this year's show saw increased floor space, over 1,700 "novelties" (including game releases) and more than 900 exhibitors from 56 different countries.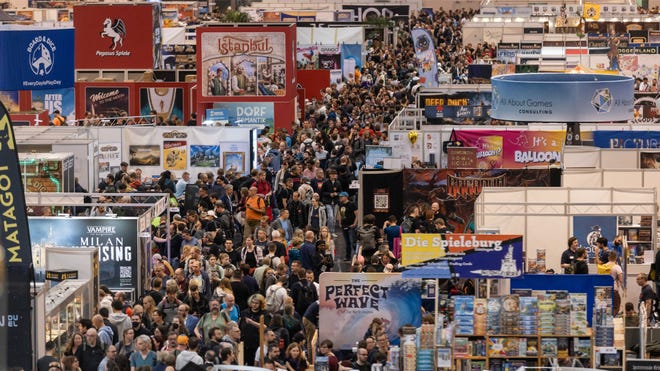 That apparent success came in the wake of the event's controversial decision to use AI-generated artwork in its marketing banners, despite creating a new mascot, the game-loving cat Meeps, over the summer in collaboration with acclaimed tabletop designer-artist Michael Menzel.
Merz Verlag said that it would be "evaluating the feedback [from this year's show] and starting directly to plan and further optimise the next Spiel", headed up by the new team in charge of the industry's flagship convention.
"It's great to see that we struck a chord with the gaming community with many new ideas. The team staged everything perfectly," said Merz Verlag managing director Florian Hess. "Spiel will continue to be just as exciting, as we still have a lot planned for the next few years."