Disney Lorcana fans are queuing for 16+ hours to get their hands on the TCG's first cards at Gen Con 2023
US convention marks the first release of the trading card game - and it's proving fairly popular, to say the least.
The pre-release of Disney Lorcana, along with the reveal of a new card rarity and a new Mickey Mouse promo card, has led to ridiculous demand as fans queue overnight - some for over 16 hours - to get their hands on the TCG's first releases at this year's Gen Con convention.
Gen Con marks Disney Lorcana's pre-release, with booster packs and starter decks for the Disney trading card game's debut set The First Chapter on sale to the public for the first time. The game will see a release in local game stores on August 18th, ahead of a wide release on September 1st.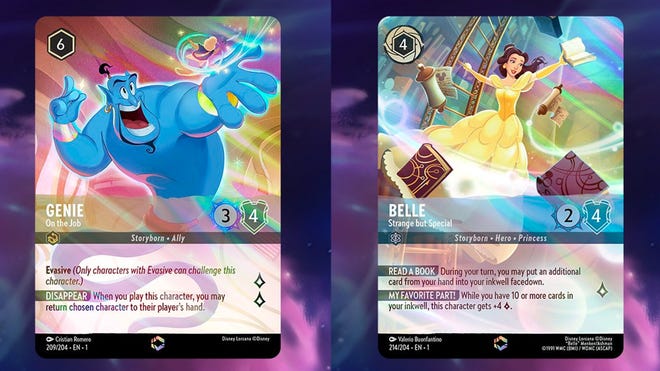 Ahead of Gen Con, Lorcana publisher Ravensburger confirmed that it would be taking steps to limit the number of decks and packs that fans could buy in order to manage demand. Each person will be able to purchase up to 24 boosters - the equivalent of a booster display - and one copy each of the three starter decks. The publisher added that it would punch a hole in customers' Gen Con badges to restrict visitors to a single purchase. The studio encouraged fans to "be sure to get there early", saying that stock would be limited during each day of the show.
Despite the measures, the first day of Gen Con on August 3rd saw enormous queues for the Lorcana booth stretching through the Indiana Convention Center, with the venue's staff needing to direct other attendees through the line of those waiting. One attendee who spoke to Dicebreaker claimed to have been waiting for over 24 hours in order to buy Lorcana before making it to the front of the line, having queued from midday on Wednesday.
Ravensburger subsequently announced it was "working with Gen Con staff to improve the current line situation", before Gen Con confirmed that it would allow customers to begin queuing in "sanctioned lines" from 6pm on the Thursday, ahead of the show's opening at 10am on Friday morning - resulting in a wait time of at least 16 hours.
"We're humbled by the excitement," Ravensburger said.
Ravensburger Booth 2001 line for tomorrow will start at 6 pm tonight. Stanchioned lines will start to form outside Hall F doors at Hoosier Concourse. This will stay in place and feed into the Ravensburger booth starting at 10 am tomorrow. Spaces cannot be held for others. #GenCon pic.twitter.com/mdCt683i5K

— Gen Con (@Gen_Con) August 3, 2023
Alongside Lorcana's first public availability, the studio revealed a sixth rarity - enchanted - that will include "extremely rare" cards with alternative artwork and an "inkwash" foil treatment, as seen in previous promo cards offered at last year's D23 Expo. The enchanted cards are marked with a new symbol and a collector number over 204.
Following in the wake of promo cards for Lorcana offered at previous events - some of which quickly sold for tens of thousands online - Gen Con will offer another new promo card: Mickey Mouse, Musketeer. The promo card will be given to those who buy products at the booth, as well as those who have signed up for ticketed events, including tournaments and demo sessions teaching newcomers how to play Lorcana.