Exploding Kittens studio's next game is about shooting balls through a cat's mouth - and it's out now
Paw to score.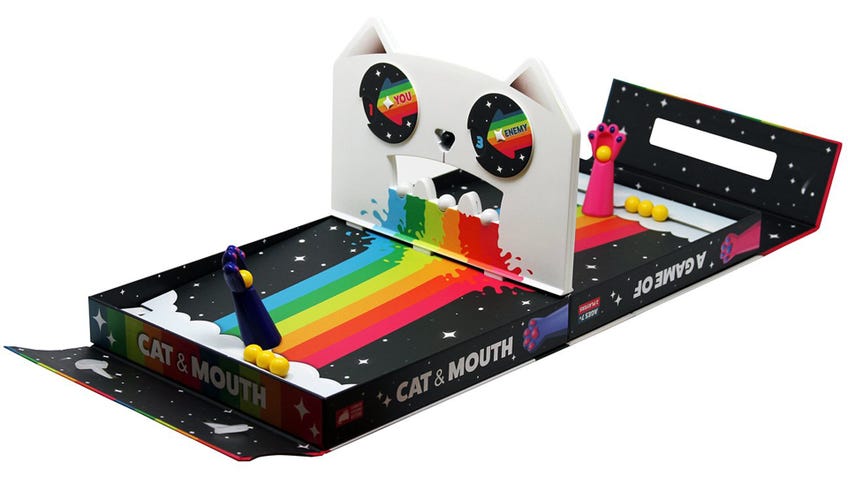 Fling balls using a magnetic paw in A Game of Cat & Mouth, the latest board game from the studio behind popular party hit Exploding Kittens, which is out right now.
A dexterity game for two players, A Game of Cat & Mouth has its competitors facing off against each other by firing balls in order to score points. The game's box opens to form the entire play area, with a wall separating the two halves of the board. This standee is the titular cat - its open mouth serving as the goal and its eyes turning to show the current player scores.
Meet "A Game of Cat & Mouth". A fiercely competitive, magnet-powered, highly addicting, Pinball'ish game! #CatandMouth pic.twitter.com/Xh6XH0a3cG

— gameofkittens (@gameofkittens) October 5, 2020
Each game, players use their magnetic paw - which attaches to the board - to simultaneously fling balls into the cat's mouth, with every successful pass through the hole awarding points. Points can also be earned from knocking out the cat's teeth onto the opponent's side. The magnetic paw can be pulled back and adjusted to change the ball's trajectory, with players able to remove it from the board once they're done.
A trailer released by the studio shows A Game of Cat & Mouth's gameplay in action with two players, with the video also revealing a tournament mode that allows additional players to join in.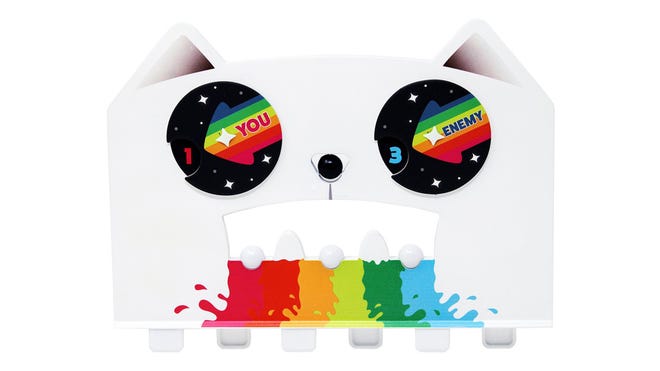 Exploding Kittens - both the name of the 2015 party game and its publisher - is also known for releasing the ridiculous card game Bears vs Babies, which has players attempting to build monsters capable of battling an army of aggressive infants, semi-co-op game You've Got Crabs and recent party game On a Scale of One to T-Rex.
Earlier this year, Exploding Kittens announced that it would be hosting a tabletop convention called Burning Cat. Created in partnership with humorous web comic series The Oatmeal - by Matthew Inman, who co-created Exploding Kittens alongside former video game designer Elan Lee - Burning Cat would include events such as an enormous game of Exploding Kittens, a bizarre vending machine that would spit out random items and, apparently, a gigantic statue of a cat that would be set alight at some point during the event.
However, due to the current COVID-19 pandemic, Burning Cat has been delayed until 2021, with all tickets refunded. There is no confirmation as to exactly when Burning Cat will take place next year or when tickets will be released.
A Game of Cat & Mouth is available right now at a retail price of $25 (£19), with a free browser companion app that helps players to set up their own tournament.