Game of Thrones: The Board Game is arriving on PC later this year
Winter is coding.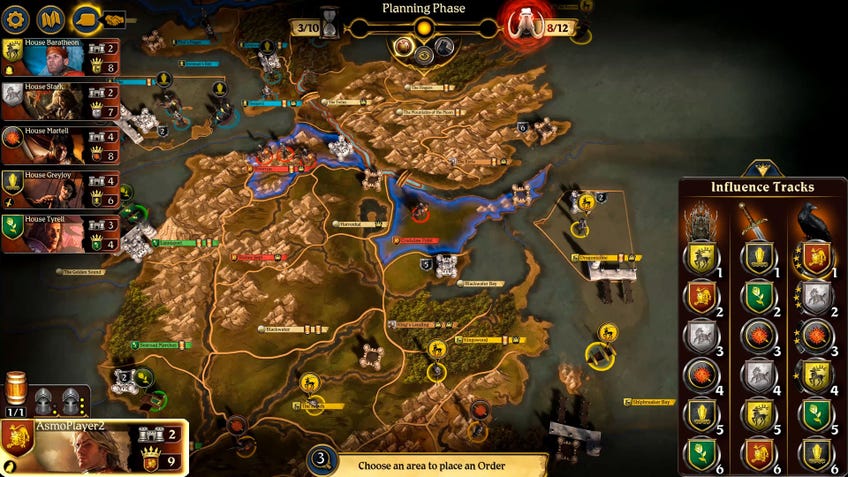 The digital version of Fantasy Flight's Game of Thrones board game is releasing on PC later this year.
First teased late last year, A Game of Thrones: The Board Game - Digital Edition appears to be a faithful adaptation of the tabletop game's 2011 second edition, itself an updated version of the 2003 original that includes gameplay elements from the A Clash of Kings and A Storm of Swords expansions.
Set in the wake of King Robert Baratheon's death - which kickstarts George R.R. Martin's series of A Song of Ice and Fire books - up to six players take command of the houses of Westeros as they compete for the Iron Throne. The game sees players manoeuvring units around the Seven Kingdoms and forming alliances - however temporary - with other factions to spread their control over the fantasy land over the course of ten rounds. The six controllable houses are Stark, Lannister, Greyjoy, Martell, Tyrell and Baratheon, with the later Mother of Dragons expansion adding houses Targaryen and Arryn - currently unconfirmed for the digital edition.
Commands are issued secretly - with the option to form non-binding agreements with other players, allowing for the chance to lie and betray - before being resolved and leading to combat between troops. Battles are resolved with cards, with players also needing to collectively fend off wildling attacks from the north by investing their power tokens in the Night's Watch.
The upcoming digital board game will include a story campaign featuring scenarios exclusive to the app, as well as the option to play against up to five AI opponents of varying difficulties or other humans online with ranked multiplayer. The PC app includes the vassal system from second-edition expansion Mother of Dragons, introducing a neutral house that joins forces with one of the players based on their influence when playing with five people or fewer. There'll also be a step-by-step tutorial for newcomers.
A Game of Thrones: The Board Game - Digital Edition has been developed by Dire Wolf Digital, the studio behind digital adaptations of popular tabletop titles including Raiders of the North Sea, Yellow & Yangtze and Sagrada. It'll be published on PC via Steam by Asmodee Digital in Q3 2020.